News
Zimpapers Team Clinches First Position in Annual Golf Tourney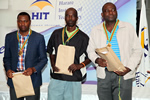 The Zimbabwe Newspapers Group team comprising Mr D. Kamwendo, Mr I Madyambudzi, Mr Kaviya and Mr M Haatendi emerged the overall winners of the annual Vice Chancellor's Innovation and Scholarship Fund Golf Tournament held on 19 May at the Chapman Golf Club in Harare.
The Zimpapers team emerged winners with 120 points, while the AMG Global Chartered Accountants team came second. The overall winners were awarded a trophy, 4 medals and 4 Powertel Internet modems; while the runners up were awarded a trophy, 4 medals and 4 cases of mineral water donated by Schweppes.
Mr M. Haatendi of the Zimbabwe Newspapers Group had the longest drive to the eighteenth hole, while Mr H.Z Maesera of CBZ had the nearest shot to the pinhole at the third hole. Mr Chibaya of Powertel walked away the most golfer award.
Over 50 participants drawn from the Institute's stakeholders, senior management and staff took part in the Four Ball-Better Ball Alliance tournament that was held to raise funds for the Vice Chancellor's Innovation and Scholarship Fund. Income generated through the Tournament is channeled towards financing intelligent but financially challenged students; Capstone Design Projects with the potential for commercialisation, as well as procuring equipment for workshops and laboratories.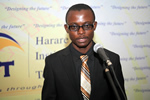 Addressing participants at the prize giving ceremony, Douglas Gweera a Part Three Electronic Engineering student who is a beneficiary, said the Fund has enabled him to realise and fulfill his childhood dream of becoming an electronic engineer. "Being born in a less privileged family robbed me of my confidence.  However, with the intervention of the HIT Vice Chancellor's Innovation and Scholarship Fund, I am assured of fulfilling my hopes and childhood dreams as well as helping my community", he said.
Gweera attained 20 points at 'A' level and had lost hope of ever attaining a University education. He expressed his appreciation to the University and its stakeholders for coming up with a noble initiative to assist less privileged but academically gifted students.
Speaking during the prize giving ceremony, HIT Vice Chancellor, Eng. Q.C. Kanhukamwe extended his appreciation to all the stakeholders for their invaluable support over the years and for making it possible to host this event every year since its establishment in 2015. "Your presence here tonight is an affirmation of the faith that you have in the HIT brand as well as an endorsement of the path that we are taking", he said.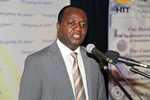 "This year, we set a fundraising target of $25 000 which will be channeled towards funding fees for our exceptional and disadvantaged students. I believe that the testimonial we have heard from Douglas, who stands out and represents numerous such other students in similar circumstances will motivate us to introspect more deeply on the cause for this fund. We want to thank you for your contributions, they will indeed go long way in making sure that we can change this country's fortunes through a technological revolution", said Vice Chancellor Kanhukamwe.
Engineer Kanhukamwe informed stakeholders of the current developments in the higher education sector in Zimbabwe; adding that HIT was strategically positioned to take a lead role in the modernisation and industrialisation agenda for Zimbabwe.
The HIT Vice Chancellor's Innovation and Scholarship Fund Golf Tournament is held as a fundraising project and platform to interact and network with stakeholders.
Last year, more than $10,000 was raised at the second edition, - with a participation of over twenty companies and organisations.
The inaugural Vice Chancellor's Innovation and Scholarship Fund Golf Tournament was held in Harare on 29 May 2015.