News
Zim Nanotechnology Researchers Present Cutting - Edge Papers at International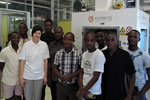 A team of Zimbabwean nanotechnology researchers led by Mr Tatenda Madzokere, a lecturer from the Department of Chemical and Process Systems Engineering attended and presented cutting-edge research papers at the 9th International Conference of the African Materials Research Society (AMRS) 2017 in Gaborone, Botswana from 11-14 December 2017.
Nine students and three lecturers from HIT, where among the twenty-five Nanotechnology researchers from Zimbabwe who made their mark at the conference, whose main purpose was to stimulate nanoscience and nanotechnology research amongst young researchers.

Undergraduate students from Zimbabwe amazed most delegates with their articulate presentations in their research work. Zimbabwe was the only country with undergraduate students who showcased their research work.All research papers presented will be published in the High Impact Factor Journal, MRSAdvances, published jointly by the Materials Research Society and Cambridge University Press.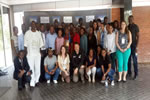 Madzokere said Nanotechnology has the potential to transform every sector of the Zimbabwean economy if fully embraced. He added that it can benefit many areas such as mineral processing, agriculture, water treatment, defence and security, manufacturing, among others. "This technology presents a huge opportunity for value addition of the country's raw material into finished goods. However, there is need for the nation to set up a fully-fledged National Nanotechnology Centre, if the country is to benefit from this emerging technology", he said.
The conference kicked off with a two day preconference workshop held at the Botswana Institute for Innovation and Research (BITRI), and a four day main conference at the Gaborone International Conference Centre. The conference was graced by a Nobel Laureate, Prof. Jean-Marie Lehn who was the Plenary Speaker. The preconference workshop provided delegates with an opportunity of hands-on exposure to backbone equipment such as Scanning Electron Microscopy, Energy Dispersive Spectroscopy, Powder X-ray Diffractometer, Electrospinning Unit (Nanospider) required for effective nanotechnology research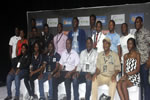 The conference was held under the theme: "Addressing Africa's Challenges through Nanomaterials Development," and was aimed at creating a platform for collaboration to promote research efforts focused on manipulating materials at the nanoscale in order to:
value to Africa's abundant natural resources;
solve Africa's problems through materials science research by developing superior nanoscale materials;
and to create an innovative environment through a fundamental understanding of nanoscience/nanotechnology.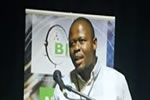 The international conference was attended by more than 550 delegates from 65 countries across the globe, and provided an opportunity for faculties and students to network with experts in nanotech research. Amongst the delegates were academics, industrialists, policymakers and students.
His Honour, the Vice President of the Republic of Botswana Mr. Mokgweetsi Masisi officially opened the conference.
The keynote speakers included Professor Jean- Marie Lehn, a Chemistry Nobel Prize winner, (1987) who presented on "Dynamic Materials towards Functional Adaptive". Other keynote speakers and Plenary Session speakers included Donald Cram and Charles J. Pedersen, the founding BITRI Chief Executive Officer and current Executive Director of the African Academy of Sciences Governing Council, Professor Nelson Torto, and other acclaimed scientists such as Prof Paul S. Weiss, Prof Sossina Haile, as well as Prof Tobin J. Marks and who chaired various plenary discussions under different sub-themes.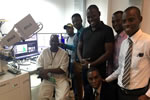 The conference ran some parallel sessions under various topics that include Materials for Health, Materials for Water, Materials for Agriculture/Environment, Materials for Energy, Materials for Mining/Construction, Nanoscience/Nanotechnology, Materials for Education/Networking and Computational Materials Science. These topics reflect both the needs of the global research community such as energy and health, as well as the needs that are specific toAfrica.

Madzokere expressed his gratitude to the Ministry of Higher and Tertiary Education, Science and Technology Development, the Botswana Institute for Technology and Innovation (BITRI) and Southern and Eastern Africa Network of Analytical Chemists (SEANAC) for their support.
HIT Presenters at The African Materials Research Society Conference (AMRS2017) Botswana Topics
| | | | |
| --- | --- | --- | --- |
| Surname | Name | Department | Abstract Topic |
| Madzokere | Tatenda C | CPSE (Lecturer) | Adsorptive Recovery of Auro-Dicyanide Anions from Aqueous Solutions using Activated Carbon-Magnesium Oxide (C-MgO) Nanocomposite as Adsorbent |
| Mahofa | Eubert. P | CPSE (Lecturer) | Catalytic soot oxidation using ceria and copper nanocomposites |
| Matowa | Patrick | SPT (Lecturer) | Formulation and in vitro studies of doxorubicin encapsulated in nanolipids extracted from Zingiber officinale |
| Kudakwashe | Penyai T. | CPSE (Student) | Extraction of Nano Silica from Corn cobs: Waste to Value Addition Approach |
| Mushambi | Munyaradzi | CPSE (Student) | Extraction of Nano Silica from Corn cobs: Waste to Value Addition Approach |
| Madzorera | Heavens | SPT (Student) | Formulation and in vitro studies of doxorubicin encapsulated in nanolipids extracted from Zingiber officinale |
| Ambasi | Wenbary | CPSE (Student) | Synthesis of a Nanocomposite Liner Material for Mineral Processing Size Reduction Equipment |
| Murombo | Levison T | CPSE (Student) | Synthesis of a Chitosan Nano Polymeric Slow Releasing Fertilizer: A Novel Approach of Improving Agricultural Productivity |
| Ndlovu | Samuel | CPSE (Student) | Novel Scheme for the Production of Nanosilica from Non-returnable Beverage Bottles: An Environmental Pollution Control Perspective |
| Mutonhori | Delight | CPSE (Student) | Design of a process to produce 428L/day of silver nanoparticle infused antimicrobial paint |
| Madhigi | Darios | CPSE (Student) | Treatment of 50 00l/day of textile effluent using nano-membrane filtration |
| Tarambiwa | Nyasha | SPT (Student) | Microencapsulation of advanced glycation end products inhibitors extracted from nanosized extracts of Dichrostachys cinerea for preventing diabetic complications. |