News
Visit by The German Ambassador to Zimbabwe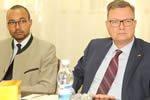 The Federal Republic of Germany Ambassador to the Republic of Zimbabwe, His Excellency Dr Thorsten Hutter visited the Harare Institute of Technology on a fact finding mission and to discuss possible collaborations between the University and German tertiary, engineering and technology institutions and organisations.
Ambassador Dr T. Hutter was accompanied by Mr David M. Mbae a representative of the Konrad Adenauer Stiftung in Zimbabwe. The two had fruitful discussions with the Vice Chancellor Eng. Q.C Kanhukamwe and some members of the HIT Senior Management team, before taking a tour of the Institute's laboratories and engineering workshops.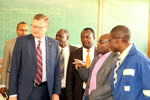 Speaking during the meeting, Ambassador Dr Hutter said he was happy to learn how the University operates and see firsthand its premises and operations. "I am very grateful that the Republic of Germany has been involved in the founding of this Institute. It would be very good if you can start engaging with some Germany technical universities as the beginning of a new chapter on cooperation between HIT and our institutions, focusing on collaborations in research and development activities, academic and student exchanges, equipment needs, linkages with industry and commerce, intellectual property and patents registration," he said.
Mr D. Mbae, of Konrad Adenauer Stiftung in Zimbabwe said the foundation is mainly interested in establishing close cooperation with HIT's Environmental Management, Renewable Energy and Climate Change (EMRECC) Research Centre. "We are interested supporting EMRECC's environmental programmes and projects such as capacity building and training workshops on climate change issues as well as funding research and development activities that can benefit the country as a whole," he said.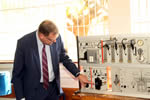 Vice Chancellor Eng. Q.C Kanhukamwe said there is hope that HIT can establish some Memoranda of Understandings (MoUs) with some engineering and technical universities in Germany. "The Institute can benefit from their experience as well as capacity building, including collaborative research and development activities," he said.