News
Vice Chancellor's New Year Message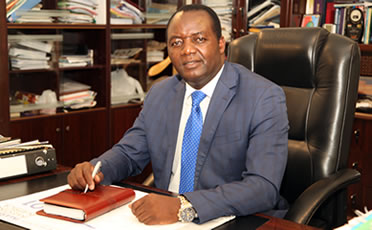 On behalf of the Institute Board and indeed on my own behalf, I would like to wish you all a Happy New Year,- hoping that you had a restive and festive holiday season, and that you come back refreshed and invigorated to take 2018 head on.
It gives me immense pleasure to announce that following the inauguration of His Excellency, the President of the Republic of Zimbabwe and Commander in Chief of the Zimbabwe Defence Forces, Cde Emmerson Mnangagwa, as the second President of the Republic,- that consequently, we as HIT have a new Chancellor. We embrace and support the leadership of our President and Chancellor, Cde E.D Mnangagwa and look forward to his guidance as we set out to continuously fulfill our mandate which is to develop, incubate, transfer and commercialise technology for Zimbabwe's rapid industrialisation.
Attendant to our new leadership is a new policy shift in the higher education arena which beckons us to compound our efforts and to become more result-oriented in our work. Our government is making commendable efforts in ensuring that Zimbabwe regains its former status through various reforms and interventions in education, health, agriculture, finance, and other facets of social and economic life. The new policy statement that "Zimbabwe is open for business," beckons us to create more efficient, innovative and effective operational standards so as to attract and retain investment. As a higher education institution, we are called upon to engage in meaningful and productive work; that is through relevant and focused research which provides solutions to problems bedeviling industry, agriculture, commerce and other spheres of economic endeavour.

We are also called upon to act on our mandate through the incubation and commercialisation of technologies which will lead to Zimbabwe's industrialisation and modernisation. Our existence as a University is not in isolation, but rather should be congruent with the national development agenda as espoused by our President and Chancellor. We should remain cognisant of the fact that we are a national institution whose role is clearly spelt out in our mandate; and whose duty is to support and execute all policies of the government of the day.
In line with the new political and economic dispensation is the charge for us to embrace a new work ethic which shuns complacency, dereliction of duty and corruption. This new work ethic places a premium on the all-important role that all must play in our individual and collective efforts if the Harare Institute of Technology and Zimbabwe are to become a beacon of transformation and good fortune in the not so distant future.
I would like to outline our milestones and achievements in 2017 and let me also reinforce that these achievements were made possible by your hard work and commitment to HIT. Students and staff alike, contributed in their distinct and collective capacities in raising the HIT flag high and promoting the name of the institution.
We started the year 2017 with the appointment of a Pro Vice Chancellor, Dr Maxwell Chanakira, a first in the history of the institution. Dr Chanakira is a seasoned academic and practitioner in the areas of strategy and innovation and has served the institution well in his capacity as Acting Director in the Technopreneurship Development Centre. The University also saw the appointment of a nineteen member Board, appointed to serve the institution at policy level. Dr Gibson Mandishona was retained in his chairmanship, and is deputized by the Chief Executive Officer of the Zimbabwe Energy Regulatory Authority, and distinguished engineering practitioner, Dr Eng. Gloria Magombo. The Board is made up of distinguished academics and practitioners in the fields of medicine, information and telecommunications, engineering, law, finance, biotechnology, among others. Our relationship has been characterized by our mutual quest to see the institution grow and develop.
Verify Engineering became an integral part of HIT as a strategic business unit, focusing on Coal and Coalbed Methane to Liquid Fuels and Chemicals (XTX) Projects. The relationship was formalized under a Memoranda of Agreement with the engineering firm and our parent ministry.
The University made great strides in its internationalisation programme through the signing of a landmark agreement with the University of Transilvania, Brasov, Romania. This agreement will open channels for the University to tap into the knowledge and expertise of the Romanians, as we develop our own skills set through training in doctorate programmes. The visit by the delegation from Transilvania University was also historic because it was the first re-engagement by the two great nations in more than twenty years! We pray for the continued sustenance of this strategic relationship.
On the local front, the University also entered into various agreements, chief of which was the agreement with telecommunications giant, TelOne and the Commercial Bank of Zimbabwe. The agreements are focused on knowledge-sharing, nurturing of student talent; as well as other areas of mutual interest. Exciting to note is the implementation of the TelOne agreement which saw HIT young innovators taking head-on and solving complex telecommunications and engineering problems. We are indeed proud of such endeavours which go on to buttress our signature appeal of providing practical and hands-on training for our graduands setting them apart from the usual mill.
In the training arena, we once again successfully hosted the second edition of the Global Entrepreneurship Training programme in Bulawayo, an outcome of our agreement with Handong Global University of South Korea. We also hosted another training programme with Reserve Bank of Zimbabwe subsidiary Home link, in providing entrepreneurship training to women.
Our students continue to be a source of great pride, and last year, our students were ambassadors at both national, regional and global level. We came second at the National Engineering Students Awards Competitions, held in August, we had students visiting China on learning visits under the Huawei Seeds for the Future programme, and the ENACTUS team also served us well at the national competitions by the Digital Technology Award.
This outline, - while certainly not exhaustive highlights our achievements, and serves as a basis for our work in this New Year. Let us press on to achieve our goals with a renewed sense of hope for the future, and with the belief that we can do it!

I thank you.
Eng. Q.C Kanhukamwe