News
Vice Chancellor's Charge Unveiled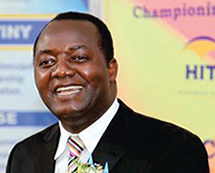 Vice Chancellor of the Harare Institute of Technology, Eng. Q.C. Kanhukamwe has summoned the collective strength of the University, and a re-dedication and recommitment to the University's founding ideals, saying these are important elements towards the ultimate realisation of the institutional mandate, and to the successful implementation of the national policy Imperatives-Education 5.0 and Industry 4.0.
Unveiling the Vice Chancellor's Charge to the University's academic and administrative leadership, Eng. Kanhukamwe said the onus was on the University to consolidate gains already made in innovation and commercialisation, as spelt out by the mandate, steering the University towards implementation of Education 5.0 and Industry 4.0, as directed by Government and by His Excellency and Chancellor, President Emmerson Mnangagwa.
For HIT, implementation of Education 5.0 is a consolidation of its unique mandate which from the outset, includes the tenents of innovation and commercialisation. Government, through the Ministry of Higher and Tertiary Education, Science and Technology Development last year unveiled the concept of University Education 5.0 which extends the role of the University from the traditional and globally acknowledge role of teaching, research and community service, to that of innovation and industrialisation. The latter two evidently hold the key for any nation's transformation and are an acknowledgement of the need for the University to play a much more practical role in transforming the lives of the people, through relevant inventions and technological adaptations.
Of note for the University is the establishment of the Technology Transfer, Licensing and Commercialisation Centre, (TTLCC) which is taking a lead role in innovation and the commercialisation of research outputs. The construction of an innovation hub at the University campus is also near completion. Under these hubs, innovations will be further developed into tangible concepts; poised for commercialisation, which will accrue benefits to both the institution, the inventor,-while benefitting industry and society at large.
At his installation as the Second Chancellor of the Harare Institute of Technology on November 2, President Mnangagwa charged HIT to lead Industry 4.0,- advancing Zimbabwe's entry into the Fourth Industrial Revolution. He pledged his support to making HIT the citadel of inventions and a critical strategic institution for technological skills development. HIT, he said had established an enviable base of the requisite human intellectual capital to champion this cause.
The University, has over the years garnered a unique and empowered human resource base with competencies in new age technologies which are critical in delivering on the execution of Industry 4.0. The teaching staff has acquired competencies in areas such as Nanotechnology, Bio Informatics, Artificial Intelligence, Big Data Analytics, Bio medical engineering among others.
Eng. Kanhukamwe said soft skills were an important asset in realising gains.
"There is need for a radical change in focus and attitude to be reflected through an increased and marked commitment to our core values; Innovation, Leadership, Integrity, Commitment, and Professionalism. The University's challenges and risks, prompt us to define how we should maintain and enhance the infrastructure needed for our research at a time when traditional sources of funding are diminishing. We need to ask ourselves fundamental questions on how we can give our students the best experience by offering appropriate financial support to ensure that their academic and personal well-being need are met. We should also put in place the right incentives and support to sustain and expand our excellence in teaching, research and development as well as innovation outputs. We should nurture a truly welcoming diverse and inclusive environment for students and staff, and strive to attain a global university status as well as maintaining," he said.
He highlighted that it was the duty of all academic leaders to examine these issues and continuously provide appropriate and timeous responses.
Eng. Kanhukamwe also exhorted all leaders to strive to achieve, maintain and safeguard those unique elements that have made HIT an example of learning and scholarship. "There must be fundamental commitment to critical thinking, he said. Academic freedom is also critical in fostering and facilitating interdisciplinary dialogues," he added.
He also called for a democratic system of governance that includes and benefits from diverse viewpoints including a robust system of deliberations that ensures the maintenance of the university's values in all its partnerships and a common recognition that HIT must be a local good citizen, regional champion and national asset.
The Vice Chancellor reiterated that the University's thrust is not to arbitrarily increase numbers in terms of student enrolment. "Our increase in admissions shall be systematic and supported by available infrastructure initiatives on the ground. The Institute should make sure that all its Startups in the Technology Transfer, Licensing and Commercialisation Centre (TTLCC) are expert driven," said Eng. Kanhukamwe.