News
Techies to Technopreneurs
Ten techies from the Harare Institute of Technology have completed a three-month business incubation process aimed at transforming their technical prototypes into commercially and socially viable ventures.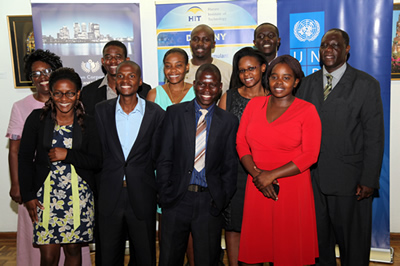 At an event to unveil the techies held at the National Art Gallery, under the theme "Techies to Technopreneurs", the Director of the HIT Technopreneurship Development Centre, Dr Maxwell Chanakira said that the business incubation process was very tough and demanding, but at the end of the process, they came up with sound business plans  based on theory and fact and  attractive to investors.
"The market is there for these products by these young techies. We worked in partnership with Sandown, which offered mentoring and coaching, business plan refinement, market survey instruments and investor readiness. The United Nations Development Programme (UNDP) brought technical and advisory support coordination, seed funding and overall direction to the project", said Dr Chanakira.
Speaking at the same event, HIT Vice Chancellor Eng. Q.C Kanhukamwe gave a thumbs-up for the project, adding that it was inspired by the HIT Mandate with dual aims of creating innovation and stimulating employment creation. " In three months these partners have imparted valuable business knowledge and skills to the graduates in the Information and Communications technologies sector.
Vice Chancellor Eng. Q.C Kanhukamwe said that this is a meaningful collaborative partnership that gives hope to the young techies, imparting skills that they will cherish for the rest of their lives. "The Institute looks forward to strengthening this cooperation in future with all our partners", he said.
In November 2014, the Harare Institute of Technology (HIT), Sandown Corporate Limited and the United Nations Development Programme (UNDP) Zimbabwe jointly launched their first Business incubation Programme. The programme was housed at HIT and through a three months incubation process sought to support the young techies to transform their technical prototypes into commercially and socially viable ventures.
UNDP country representative, Verity Nyagah said the collaboration is an essential strategic partnership in advancing a key national development agenda. "This programme will not have been achieved if it wasn't for the collaboration and commitment by the partnership of HIT, Sandown Corporate, and UNDP. Through this collaboration, the young techies have been granted access to additional technical and mentoring skills. This is evidence of the high quality of the business plans they developed, and I am pleased to advise that the process of capital sourcing and investor engagement is now underway", she said.
Below is a listing of the ten prototypes:
Liliosa Mushonga – Energy Demand Prediction System

Emmanuel Isheunesu Madzokere – Electronic  Shopping Cart: Case of Instifoods

Gresham Muradzikwa – An Android Mobile Based Payment  System  Using Quick Response (QR) Codes

Chenaimwoyo Nhema – Web Based Market Linkage System  For  Smallholder Farmers

Tendai Nyamugudza – Primary and Secondary Education Information Management System

Kudzai Shamba - Integrated System For Efficient Payment of Education Tuition Fees in Zimbabwe

Rumbidzai Jani – A Web Based Electronic Archiving System For Local  Authourities

Kudakwashe Chifamba – Smart Home Automation System

Tinovimbanashe Maduku – A Supply Chain Management System For Retail Pharmacies

Edward Zengeni – Enterprise Application Integration Platform