News
Technopreneurship Development Centre - Training Department's (TDC-TD) Advisory Board Induction Workshop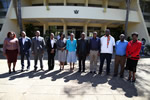 The Technopreneurship Development Centre Training Department (TDC-TD) is holding an induction workshop for its Advisory Board to ensure that the department mainstream true to its mission and plays an active advisory role in growing the Centre of Excellence.
The Advisory Board comprise of five members from the banking, financial, marketing, economics, human resources, accounting, technology, legal, entrepreneurship, design thinking, mentoring and coaching backgrounds. These are Mr C. Chiketa, a Deputy Director and Human resources expert at the Reserve Bank of Zimbabwe (RBZ), Mr C. Mphambela, an economist and Executive with the Bankers Association of Zimbabwe (BAZ), Mr T. Mukoyi, a marketing and executive coach, Ms S. Mutangadura, a lawyer and Deputy Board Chair for Netone, and Ms E. Zimunya, marketing and training executive at Marketing Association of Zimbabwe (MAZ).
TDC-TD advisory Board was established to provide strategic guidance and counsel to meet and enhance the Centre's mission objectives. The Advisory Board was appointed to provide the mix of expertise necessary to inform the TDC-TD's mission and objectives
The Advisory Board members will serve a two- year renewable term of office.
In his welcome remarks, Dean W. Gwarimbo gave an overview of the Harare Institute of Technology, its mandate, Schools, departments, Centres of Excellence, as well as the Institute's direction and vision. He also emphasised that the grand-plan is to establish a stand alone Technopreneurship Development and Training Centre that can serve the SADC region.
Ms. S. Moyo, the TDC-TD's Training Coordinator also gave an overview of the Technopreneurship Development Centre. "Technopreneurship is at the core of our services. We partner with industry, government and communities to accelerate the modernisation and industrialisation of Zimbabwe and beyond, offering holistic, collaborative, multi-disciplinary, technology driven solutions," she said.
The Technopreneurship Development provides entrepreneurship services through training, research, coaching and mentoring of Senior Executives and SMEs.