News
Romanian Envoy Speaks at Anti-Corruption Symposium
The School of Business and Management Sciences Department of Forensic Accounting and Auditing held a Public Lecture on Corruption in collaboration with the Embassy of Romania to the Republic of Zimbabwe and the Zimbabwe Anti-Corruption Commission (ZAAC).
The Symposium, entitled 'YOU CAN STOP CORRUPTION' was held on 26 April in the Engineering Hall and was addressed by His Excellency, the Ambassador of Romania to the Republic of Zimbabwe Dr Silviu Barbu and Mr Reverend Magowa, a Public Education Officer from the Zimbabwe Anti-Corruption Commission.
Ambassador Barbu's presentation was entitled 'The Prevention, Prosecution and Conviction of Corruption Cases and Incidents -Lessons from Eastern Europe, 'while Mr Magowa's presentation was entitled 'Corruption - The Biggest Evil in our African Society.'
In his opening remarks, Dean of the School of Business and Management Sciences, Mr Willard Gwarimbo said the Symposium was special and unique in that it has been graced by H.E Ambassador Barbu to share Romania's experiences and what it has done to combat corruption. "Romania had a similar history to Zimbabwe and it has dealt with the issues of corruption more successfully. Therefore, there is need to tap from them and learn how to deal with our own situation here in Zimbabwe. We need to learn from Romania's experiences and what they have done to combat corruption in their country as well as sharing ideas in various areas that breeds corruption," he said.
Dean Gwarimbo added that this was a platform to share experiences and strategies as we are looking forward to a Zimbabwe which is free of corruption in the future.  "HIT also intends to share with the world that it has a dedicated programme in the form of a Bachelor of Technology (Honours) Degree programme in Forensic Accounting and Auditing which was established to address and deal with the menace of corruption in Zimbabwe," he said.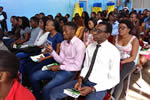 In his presentation, Ambassador Barbu explained how Romania is dealing with the management of European Union Funds from the anti-corruption point of view focusing on the activities of the Romanian Anti-Corruption Directorate in combating corruption as well as the prosecution of corruption cases by the government and European Union anti-corruption bodies. "Everywhere in the world, poverty is the main cause of corruption as it creates bad attitudes where some people would want to solve some problems using illegal means. Corruption is nothing new in the world and probably all countries with some exceptions have experienced issues of corruption in their political, social and economic development. Romania also passed through that period and by using Romania as an example, I think Zimbabwe can solve the issue of corruption in the near future. Corruption can only be solved when politicians, business people and the general public can work together to combat it," he said.
Mr Magowa, from the Zimbabwe Anti-Corruption Commission (ZACC) gave a presentation on the effects of corruption in our African societies. "Issues of corruption are so common in African countries.   Corruption damages work ethics, erodes discipline and seriously undermines and damages the image of our nations globally. We encourage you to come and report to us whenever you come across any act of corruption," he said.
The Symposium was attended by HIT students and staff.