News
Research Africa team visits HIT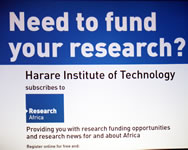 The Harare Institute of Technology is now a fully subscribed member of Research Africa through its Library and Information Services Department.
A team of Research Africa consultants recently conducted a training and induction workshop at the Institute to acquaint both academic and non academic staff as well as researchers on how to effectively use their research platform.
Speaking on the sidelines of the workshop, Mr. Maenzanise, the HIT Librarian said the idea to subscribe to Africa Research was for the Institute`s academic, on academic staff and researchers to access hands on material so that they can get all the research material that they need, and equip themselves with the knowledge that they require
Research Africa is an internet based organisation that provides its subscribers with research funding opportunities and research news for and about Africa.
Research Africa strengthens the African science and technology policy-making, and research community, and connects them with the world scientific community. It is for African government and institutional policy makers, researchers and research managers.
Research Africa is the only publication to comprehensively track research policy across Africa's capital cities and universities, providing detailed coverage of research-related issues. Compiled by our experienced editorial staff in Cape Town, South Africa, Research Africa is published online with a thorough, weekly digest of research policy news from all over the continent.
It also offers comprehensive, global coverage of news about science, technology and innovation policies, and the use of research to provide solutions to Africa's development needs. It is also the definitive source of information about sponsors of African science and development research funding programmes, and brings you details of all their calls for applications for funding.

Research Africa exists to inform senior researchers, research managers, administrators and everyone interested in the science and innovation research strategy of their institution, their country, and the international agencies.
The most frequent sponsors of research in Africa include the National Research Foundation and Medical Research Council in South Africa, the UK Department for International Development, the World Health Organization, the World Bank and various national development organisations, such as USAID, NZAID, and AUSAID. Subject matter varies, but much of the funding is for agricultural programmes and healthcare research, especially work on diseases such as tuberculosis and HIV/Aids.
Africa is a large and rapidly growing market for research, as seen in the numbers of funding opportunities that are open to researchers. Africa is very different from the other areas, as the majority of funding here comes from outside the continent. As a result Research Africa has extended its editorial remit to cover smaller sponsors who provide funding for grassroots organisations undertaking development activities that are not necessarily directly related to academia or innovation. In this respect, Research Africa has a much wider scope of funding opportunities that are relevant to its readers and subscribers.