News
Public Workshops Mark Commemorative Activities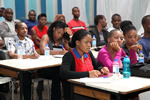 Harare Institute of Technology's 10th Anniversary Celebrations were marked by several public workshops from 24 to 26 August 2015. The workshops were centred on various technologies and were hosted by the Schools of Engineering and Technology, Industrial Sciences and Technology and Information Science and Technology Business and Management Sciences.
A Food Inspection Seminar was held on Monday 24 August, 2015 exploring various areas in food technology. The seminar covered issues concerning food regulations and inspections, Hazard Analysis and Critical Control Points (HACCP) and risk-based food inspections, violation identification, citation and documentation as well communication and foodborne illness investigations.
On Tuesday 25 August, 2015, the School of Information Science and Technology held a workshop under the theme- Emerging Technologies in ICTs covering issues of cloud computing and security, data warehousing, big data and security, detection of malware using machine learning techniques, virtual firewall security on virtual machines in cloud environments, scanning tool for the detection of images embedded with malicious programmes and android mobile forensics analyser for stegno data.
Running concurrently was the School of Industrial Sciences and Technology's workshop on Sustainable Technologies. The workshop discussed perspectives on value addition of food, the future of food technologies in Zimbabwe, commercialistion of Zimbabwean medicinal seed-bearing plants, challenges and opportunities in the local pharmaceutical industry, biofertilisers and prospects for Bavar 2 biofertiliser, conversion of abattoir waste into biofertiliser and the use of tissue culture and virus elimination for poverty eradication and ensuring food security for small scale farmers.
The School of Engineering and Technology and the School of Business and Management Sciences also held their workshops on 26 August 2015.
Held under the theme- Sustainable Design Technologies, the School of Engineering and Technology examined and discussed issues surrounding the application of industrial and manufacturing engineering in industry, technology transformation with time, polymer technologies and polymer manufacturing industries, wireless technologies, organic pollutants, effects on the environment and the role of engineers in technology transfer and innovation as well as technopreneurial leadership.
The School of Business and Management Science's workshop running under the theme – Enhancing Business Competitiveness through Technology discussed, among others, challenges and benefits of the digitalization of the Zimbabwe Stock Exchange, impact of technology on forensic accounting and auditing, e-microfinance and crowd funding portals, use of financial engineering technologies in security markets, security and trust in mobile banking, application of e-commerce technologies in the advertising industry as well as web-based applications.
"The workshops inspired prospects for collaborative research across departments and with industrial partners", said Professor L. Tichagwa of the School Engineering and Technology.
The schools noted the diversity of research specialties available at HIT and how researchers can be brought together to share ideas across disciplines.
Representatives from Industry, Commerce and the University facilitated the workshops.