News
Prof Gundidza at ICASA: Medicinal Plants, Immune System Booster for HIV Patients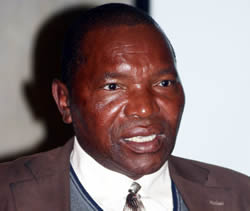 Professor Gundidza, Chairperson of the Harare Institute of Technology's Department of Pharmaceutical Technology was among the panel of presenters on scientific research at the International Conference on AIDS and STIs in Africa (ICASA) held in Harare from 29 November to 4 December2015.
Professor Gundidza, an expert in plant medicine presented on medicinal plants as an immune system booster for HIV patients. He proposed that more research needs to be conducted on the efficacy of medicinal plants to fight opportunistic infections in HIV and Aids patients as these opportunistic infections can lead to death.
According to his research, plants are effective in boosting the immune system and help to fight opportunistic infections especially through the application of Nano technology which can actually stop the multiplication of the virus or even the bacteria, fungi and parasites.