News
President Mugabe caps 418 HIT graduates

President of the Republic of Zimbabwe and Chancellor of the Harare Institute of Technology, His Excellency Cde R.G. Mugabe capped 418 HIT graduates at the Institute's 8th Graduation Ceremony on Friday 6 October 2017.

The students were drawn from the Schools of Engineering and Technology, Industrial Sciences and Technology, Information Science and Technology and Business and Management Sciences.
In his address, HIT Vice Chancellor Engineer Quinton Kanhukamwe said the university continued to contribute positively to the country's economic growth through developing, incubating, transferring and commercialising technology for rapid industrialisation. " HIT had made major inroads towards its goal of conducting research, which is responsive to the country's national needs, challenges and aspirations. Research from across the schools resonated with and responded well to the nation's development blueprint, ZIMASSET," said Eng Kanhukamwe.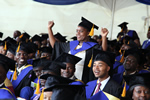 He added that the university's innovations focused on the promotion of indigenous knowledge systems, value addition of natural resources, herbal medicines research, development of software applications and agricultural engineering and technology, among other areas. Some of the projects undertaken by HIT students included recovery of gold from waste dumps, value addition to graphite and production of hydrogen from waste lubricating oil.
"The university has also produced distributor electric transformers, which are undergoing tests. We expect positive results and are eager to commercially use them once the tests are successful," he said. The university is also producing agricultural machinery and farm implements like a tractor drawn hay baler; a maize sheller and a stock feed pelletisers; which were on display at the graduation ceremony.

Eng. Kanhukamwe also told the gathering that HIT has signed partnerships agreements with local companies such as TelOne and Commercial Bank of Zimbabwe in areas of research, innovation and development. "HIT has also signed a Memorandum of Understanding with Transilvania University of Brasov in Romania and similar agreements were entered into with universities in India and South Korea.
The ceremony was attended by the Minister of Higher and Tertiary Education, Science and Technology Development, Professor Jonathan Moyo, his deputy Dr Godfrey Gandawa, Minister of State for Harare Metropolitan Province, Cde Miriam Chikukwa, foreign envoys, captains of industry, Vice Chancellors from other state universities, Institute Board Chairman, Dr Gibson Mandishona and the Institute Board members, among others.