News
Obituary of Margareth Chiumbe
The Vice Chancellor, Engineer Q.C. Kanhukamwe joins the entire HIT community in mourning the passing on of Margareth Chiumbe, (39), a staff member in the Library and Information Services Department who succumbed to cancer on Friday 26 June 2015 at Parirenyatwa Hospital.
She is survived by her parents, two brothers and two sisters.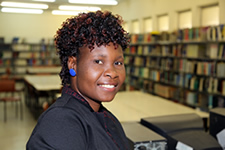 Margareth joined the Harare Institute of Technology on 1 January 2005, as a Library Technical Assistant, a position she held until her time of death.  She graduated with a Diploma in Library and Information Science from the Harare Polytechnic College in 2014 having successfully completed a Certificate course in the same field in 2011.  She attained primary education at Mbuyamaswa School and proceeded to Jichidza High School in Zaka for her secondary education.
Colleagues have described her as a team player, hardworking and always striving for excellence in all assigned tasks and activities.  She will be remembered by her colleagues and friends both at work and church.
Her family's eulogy was centred on her great sense of responsibility and her enduring nature which saw her working hard to assist and provide for the family.  She placed her family before herself and diligently carried this responsibility.  As a pillar of strength and support she will be greatly missed. 
Margareth was interred on Sunday 28 June, 2015 at her rural home in, Zaka East, Masvingo. 
May her soul rest in eternal peace.