News
NAM/NBA Workshop on Industrial Biotechnology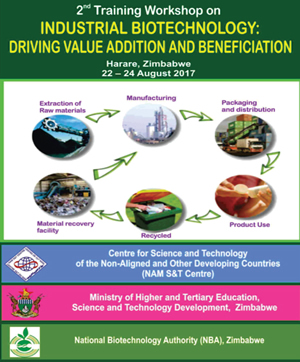 An Industrial Biotechnology Training Workshop organised by the Non-Aligned Movement Centre for Science and Technology (NAM S&T), Ministry of Higher and Tertiary Education, Science and Technology Development, Zimbabwe and the National Biotechnology Authority of Zimbabwe (NBA) was held in Harare from 22 - 24 August running under the theme "Driving Value-Addition and Beneficiation".
This Industrial Biotechnology Training Workshop was to understand how value addition and beneficiation in the industry may be achieved through technology transfer and the application of biotechnology. It was also aimed to give local and international businesses an opportunity to showcase their products, to provide insight, education and awareness on technologies that may be exploited by producers for processing raw materials into bio-based products of economic importance as well the promotion of beneficial collaboration among scientists, technologists and scientific organizations from Non-aligned and other developing countries. The other objective was to establish and link national and regional centres for development and transfer of technology.
Academics from HIT's School of Industrial Sciences and Technology and the Biotechnology Department attended the workshop together with other stakeholders from 18 Non-Aligned Movement (NAM) countries in the industrial biotechnology sector including.
Dean P. Muredzi and Dr A. Phiri conducted a training lectures on Food, Biotechnology and Biochemicals as well as Bioenergy. Eng. M. Manyuchi presented on Integrated Biomass management with a goal to improve energy efficiency and soil nutrient recycling, while Mrs. T. Sengudzwa: also presented on chievements and prospects of industrial Biotechnology in relation to Biomining and Bioenergy in Zimbabwe (Review). Dr A. Musengi, Acting Chairperson of the Biotechnology Department presented on the prospects for Biocatalysis in Zimbabwe, while Shumbeyi Muzondo presented on Status and Prospects of Industrial Biotechnology in Relation to Sustainable Production of Bovine Serum Albumin from Abattoir waste in Zimbabwe.
Participants challenged the industrial biotechnology sector to embrace safe, sustainable and responsible practices that are consistent with provisions of legal frameworks in the biotechnology industry.
NBA Zimbabwe Chief Executive Officer Dr Jonathan Mufandaedza called for the mainstreaming of biosafety in all sectors of the economy to enable the production of safe products under safeworking environments. "Let's mainstream biosafety in our operations, education system and research processes" he said
Zimbabwe is currently trying to up efforts to fulfil its economic strategy of value-addition and beneficiation on raw materials from mining and agriculture, through harnessing effective industrial biotechnological processes.