News
Minister Moyo Inaugural Visit to HIT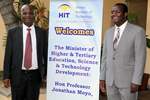 Minister of Higher and Tertiary Education, Science and Technology Development Honourable Professor Jonathan Moyo made his inaugural visit to the Harare Institute of Technology on 25 August where he met senior management and toured the Institute' campus.
Professor Jonathan Moyo's visit was to familiarise with the Institute, its research and intellectual works, milestones and aspirations, challenges and to identify areas of mutual interest.
"We have very high expectations of HIT because of its mandate and obviously the good work that the institution is doing and we are fortunate to come during your 10th Anniversary Celebrations when you are showcasing your works. We congratulation you on your 10th Anniversary", he said.
"We have more than conventional interest in this Institute's success and we will do everything to make you succeed and we know that HIT is set up for it as it inspires a lot of confidence," said Professor Moyo.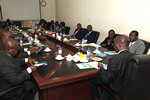 HIT Vice Chancellor Eng. Q.C Kanhukamwe apprised the Minister of the Institute's Ten Point Plan, mandate, research and development works, staffing, fellowship development, student enrolment, budgetary and funding issues and strides made in the commercialisation of technology and intellectual property (IP) registration of patents and copyrights.
The Vice Chancellor led a tour of the campus where Professor Moyo was shown a number of research and development projects across the various departments and workshops.  The Minister pledged to fund some research and production works that will generate more income for the Institute and assist in the discharge of its mandate.