News
Minister Calls for More Investment in STEM
Minister of Higher and Tertiary Education, Science and Technology Development, Honourable Jonathan Moyo has called for more investment in science education in Zimbabwe.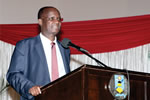 Speaking at the official opening ceremony of the Research and Intellectual Outputs,- Science, Engineering and Technology Expo, (RIOSET), on Friday 4 September, at the National University of Science and Technology, (NUST), Professor Moyo said while government pronouncements speak to the investment in science education and in education in general, the statistics do not support the claim. He added that science and technology were the chief drivers of development and hence the need for government to pour resources into the development of the sector.

Speaking on RIO –SET, Professor Moyo highlighted that the expo was a festival of scholarship and creativity and was formed to celebrate intellectual prowess and scholarship.
He revealed that the focus of RIO- SET was to showcase the best research and intellectual work in Zimbabwe, at home and abroad, and to harness it for national development. Another focus was networking, and collaboration amongst institutions of higher learning in Zimbabwe.
He added that as Zimbabweans, we were our own economic liberators, who could champion socio – economic transformation through national developmental policies such as ZIMASSET.
In terms of training in science, technology, engineering and mathematics, (STEM), Professor Moyo empirically revealed that 52 % of the total enrolment in the country's nine state universities were in the humanities, 29 % in the commercials and 19 % were pursuing subjects in Science and Technology, Engineering and Mathematics. He added that his hope was the fruition of the prospects for a STEM culture, and for greater investment to be made in the STEM sector. He also added that some higher education institutions had deviated from their mandate, with 15 000 graduates being churned out each year with irrelevant degrees.
Professor Moyo paid a special tribute to former Higher Education Minister, Dr Stan Mudenge, who intitiated the concept of the Research and Intellectual Expo, which was then officially launched by the President of the Republic of Zimbabwe, His Excellency Cde. R.G. Mugabe on 16 February 2012 in Harare.