News
Microsoft Boss Thumbs up HIT Brand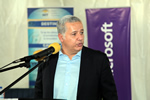 Corporate Vice President of Microsoft Corporation and President for Africa and the Middle East, Ali Faramawy has paid tribute to the innovative and creative power of the youth, who represent the future of global technological transformation, and in particular, HIT students. The Harare Institute of Technology has the largest faculty  of  Information Sciences in sub-saharan Africa, according to disciplines.
Speaking at a Public Lecture at the Harare Institute of Technology held recently, Faramawy spoke on the power and potential of the youth; an asset to any nation if they are given the platform and to excel. "Young people are a blessing to any nation, when they are given opportunities to build, collaborate and innovate," said Faramawy.
In Africa, the youth constitute 65% of the total population, according to the African Union Youth Division.
The Public Lecture, held under the topic – "The Microsoft Strategy" was attended by HIT students and staff and took on an interactive approach with students flooring fundamental questions on the empowerment of African developers, Microsoft versus Open Source Software, the need for software tailor-made for the African market as well as the integration of Microsoft programmes into higher education syllabi.
Faramawy urged young people in universities to do much more in taking up the opportunities presented by technology which has opened up the boundaries of the world,- especially access to the internet. He added that the exciting thing about technology is that it opens up the boundaries of the world and is the ultimate expression of democracy.
The Microsoft Vice President told the HIT students that there was no limit to possibilities. He said that it was ironical that at Microsoft, which was deemed as the crème de la crème of American capitalism, the Corporation had an Indian Chief Executive; representing the power of possibilities and the recognition of emerging economic powers, markets and growth opportunities.
Faramawy told the audience that Microsoft Corporation was established by Bill Gates at a tender age, and was founded on three principles: bold ideas, empowering everyone and providing devices and services. "Hard work, smart work and teamwork is what we all have to do. Give it a try, do your best, surround yourself with people who tell you the truth, continue learning, try different things, enroll in different programmes, do your best and we are also going to do our best to get much closer to you as a company", said the Microsoft Vice President.
He also said there is room to utilise some Microsoft curricula at HIT and other higher education institutions and that supervision or collaboration to enable students to get more resources and support through Microsoft's standard education programme in implementing the Microsoft Corporation's 4Africa strategy was possible.
Faramawy cited a World Bank Concept study on Africa entitled "Actively engaging in Africa's economic development to improve its global competitiveness" which is based on expanding infrastructure, harvesting innovation, investment climate and institutional capacity.
He said Microsoft took this concept and developed a prototype entitled  the '4Africa Strategy' with 3 pillars; skills, innovation and access. "We need to equip our people with technological skills, and turn their ideas into solutions, and enable them to afford access to the Internet and quality devices using low cost energy sources," he said.
Faramawy added that success would depend on a closer working relationship within the greater matrix. "I think I know what we have to do as a company, - we have to come much closer to young people in universities around Africa. We need to work on those enablement factors that we spoke about – skills, innovation and affordable accessibility factors. We need to have the ability and the skill to support a lot of people at the same time. We must support the communities and let people support each other, that's community power", he said
"Today, I was in a meeting with some government officials and they said its fine, they like us as we are doing good projects here in Zimbabwe but they want us to get closer to the people, the communities, local societies and much more to students at local higher educational institutions like HIT, and I promise you that we are going to listen to them".
Faramawy acknowledged that Microsoft Corporation is not doing enough work in Zimbabwe. "We are not here enough, we have some people here in Zimbabwe working particularly on our products marketing but we also need to cover and address important sectors like higher education", he said.
In his address, Faramawy also touched on a number of issues ranging from the Windows application, Microsoft versus open source software, employment opportunities, Microsoft and higher education, internship and mentorship programmes, as well the Corporation's developmental projects in Africa.
The Microsoft Vice President said that as an organization,  Microsoft Corporation wants to provide applications and platforms that can allow people to excel, do what they want and do more in a world that is dominated by two key words; mobility and cloud computing.
"Our world is going to move to lots of applications being used through a variety of devices and most probably the backend of these applications are going to be sitting on the cloud. Therefore, Microsoft Corporation is trying to be really good in the cloud, trying to master that world of enabling people to do more, be better in a world dominated by cloud services and mobiles devices", he said
"We are trying to provide platforms that allow you to write, that can run across multiple devices and can allow you to run applications and use them again in a mobile cloud environment. We also want to be able to provide the applications and the devices,- that is what we are trying to do as a company", said Faramawy.
He hinted that traditional computers will transform because of the advancements in the utility of computer devices, telecommunication systems availability, speed and storage technology. He added that with these advancements, lots of storage can be available at a lower cost.
Turning to issues of open source software, Faramawy acknowledged that open source is an incredible phenomenon. He added that it provided a great opportunity for people to collaborate and do things respecting the power of the individual.
"The reality of the matter today is that the debate is shifting from open source to open choice. It's no longer about an ideology, because people want to do the best of everything. It's a good thing because it allows us all to do different things, especially for companies. The Microsoft Corporation cloud computing platform is able to use open source and to host open source applications.
As Corporate Vice President of Microsoft Corporation, Ali Faramawy is a key member of Microsoft's international leadership team that is responsible for the company's global strategy with a particular focus on emerging and high growth markets. As President for Microsoft Middle East & Africa (MEA), Ali is directly responsible for Microsoft's operations in MEA, one of thirteen areas that comprise Microsoft's worldwide operations. The Area represents one of Microsoft's fastest growing and dynamic markets and certainly its most diverse one. Microsoft MEA operates through 32 offices and covers 79 countries across three continents.