News
Leadership Vital in Setting Organisational Culture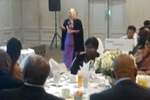 Malaysian academician and researcher, Dr Norazida Mohamed has stressed the importance of leaders in setting, nurturing and sustaining organisational culture.
In her presentation, "Tone at the Top", and "Mood in the Middle,"- The Power of Corporate Culture, Dr Mohamed said leaders had an integral role in directing an organisation to its intended destiny;  galvanising support for organisational goals and objectives from stakeholders, and leading by example in terms of ethical behaviour. She added that ethical behaviour has emerged as a strong value proposition in the face of rampant corruption and fraud worldwide.  Through empirical examples, Dr Mohammed also exposed the debilitating effects of fraud on an organisation's brand and performance.
The meeting, held at a local hotel was attended by captains of industry and commerce, and was hosted by the Harare Institute of Technology's department of Forensic Accounting and Auditing, in collaboration with the British Council and the Macroeconomic and Financial Management Institute of Eastern and Southern Africa, (MEFMI).  
Mrs Rose Malila –Phiri, Director of Finance and Administration at MEFMI said the hosting of the meeting was in recognition of the negative effects of fraud, corruption –prescribing mitigations against these vices in promoting a better life for the people. She highlighted her organisations' commitment to building successful partnerships in the public and private sectors, - as well as civic society. Dean in the School of Business and Management Sciences, Mr Willard Gwarimbo also  highlighted the importance of instilling integrity and ethical behaviour from a tender age.
Director of the British Council, Ms Sam Harvey expressed her appreciation to all stakeholders, highlighting the importance of corporate governance in national development.