News

ISA holds First Digital Forensics Training Workshop
The Information Security and Assurance Department conducted its first digital forensics investigations short training course entitled "Digital Forensics Investigations Essentials." The course was held on campus from 16 – 20 July 2018.
The main objective of the course was to help increase the national skills capacity in the field of digital forensics and incident response. Chairperson of the Information Security and Assurance Department, Mr Robert Shonhiwa said the digital forensics investigations course was conducted to fill the gap by training local people in cyber security and digital forensics as well as building a skills base of people who can engage in digital forensics in Zimbabwe.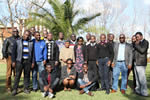 "The digital forensics course uses relevant and local case studies as well as recent international cyber-incidents to impart hands-on knowledge on how to handle, extract, process and analyse digital forensic evidence through practical lab sessions. This is a foundation level course and we will proceed to train the intermediate and advanced levels in the near future," he said.
The 5-day hands on training course was conducted at the Digital Forensics Lab and facilitated by a team of knowledgeable experts in cyber security. The course was in 5 modules with the first module covering incidence response methodology, preparing and building tools and policies, and steps to be followed if an incident happens. The second module covered the creation of tools to be used to gather evidence while the the third module covered how to investigate using windows computers. The fourth module covered investigations using the Linux system and hacker tools. The fifth module was about data recovery in the event of an incident including a group assessment work.
Participants were drawn from the police, military, POTRAZ, HIT, ICTs industry and security firms.