News
Indian Embassy - HIT Host Media Reception
The Indian Embassy and the Harare Institute of Technology held a media reception where it was celebrating the cordial relations between the people of India and Zimbabwe last Friday.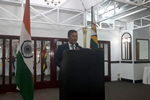 Speaking at the occasion, the Indian Ambassador to Zimbabwe His Excellency Mr Rungsung Masakui said the event was held to honour the excellent relations between the peoples of Zimbabwe and India.
"HIT is the epitome of the cordial relations between our two countries as it has signed sixteen active MoUs with Indian Universities. It also has a substantial number of lecturers that were trained in various technological fields and are now contributing to the research, development and innovation outputs of the country"
On the other hand, HIT Vice Chancellor, Engineer Kanhukamwe said HIT will be ever grateful to the Indian Embassy in Harare for facilitating
"It is also with such a great sense of honour that I further extend our hearty appreciation to you Your Excellency and your embassy staff for facilitating our University's aptitude to tap into the Indian model of University education."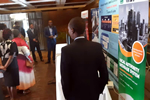 "All the support we have received as a University has helped us to commit ourselves to consolidating our Innovation and Technopreneurial signature by promoting scholarship through an inculcation of a hands-on curriculum delivery. The developed staff are also now driving Research, Development and Innovation outputs"
Eng Kanhukamwe also said there is now the greater need to escalate and enhance HIT relations with Indian institutions as well as to have some experts in selected hi-tech programmes being seconded to HIT.
Guests to the reception had the pleasure of viewing exhibitions of start-ups from the Technology Transfer Licencing and Commercialisation Centre which was led by its Director Dr Garikayi.