News
Indian Embassy Celebrates ITEC Day on HIT Campus
The Indian Ambassador to Zimbabwe, His Excellency Mr Rungsung Masakui has pledged an increased quota for Zimbabweans in the India Technical Economic Cooperation, (ITEC) programme.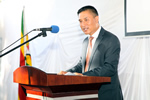 Speaking at the ITEC celebrations held at the HIT campus on Friday 24 February, Mr Masakui also commended the Harare Institute of Technology Staff Development Fellows who returned from India; describing them as an excellent example of successful cooperation between India and Zimbabwe.
"I would like to congratulate the Zimbabwean scholars who went to India for further studies and I can say with a lot of pride that this is an excellent contribution to the relationship between the two countries and I would like to congratulate Eng. Kanhukamwe for this contribution," he said.
The ITEC programme is part of the bi-lateral ties between India and Zimbabwe, covering areas in ICTs, SMEs, education, power and energy among other disciplines.
The Minister of Public Service, Labour and Social Welfare, Honourable Prisca Mupfumira was the Guest of Honour at the event.
In her speech, Cde Prisca Mupfumira hailed the ITEC programme,- describing it as an excellent model of south –south cooperation.  She added that the programme extended the linkages of the two countries; from the historical to technical, cultural and economic ties.
"Our government officials have benefitted immensely from this programme, which has expanded our skills base in the public sector. It has also enabled us to tap from Indian experience and know- how where local expertise has been found lacking. The Indo –Zim relationship has been nurtured on a broad base, with the witnessing of increased cooperation in SMEs. India has become a special partner in this cooperation," she said. She expressed appreciation for the tremendous contributions that India is making in Zimbabwe.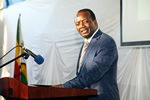 In his welcoming remarks, the Vice Chancellor of the Harare Institute of Technology, Eng. Q.C. Kanhukamwe said he was grateful for the positive outcomes of the HIT SDF programme which in a large part have been funded by the Government of India. "We have 104 staff members who have benefitted from this cooperation and have successfully undergone training in India. Another important outcome of this programme is our increase in IP registration," he said.
Early this year, the Harare Institute of Technology sent another cohort of over 30 SDFs for doctoral programmes.
Several alumni, who were beneficiaries of the ITEC programme, expressed their gratitude for the opportunity which had improved their professional competencies and skills; while also giving them an appreciation of Indian culture.

The ITEC day celebrations were institutionalised in 1964, and the training programmes have contributed to capacity building and human resource development across the world. Zimbabwe joined the programme in 1985. The day provides a platform for alumni to come together, interact, share and learn from each other's experiences during their training programmes in India.