News
HIT @ ZITF 2018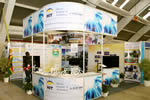 The Harare Institute of Technology participated at the just-ended Zimbabwe International Trade Fair (ZITF) which took place from 24 to 28 April 2018 at the ZITF Grounds in Bulawayo.
Held under the theme, "Sustainable Industrial Development," and the sub themes Inclusive, Competitive and Collaborative, - the fair attracted hundreds of local, regional and international exhibitors.
The University exhibited the concept of the HIT Technopark, as well as two startups, - Nhume and the Local Authority Database Sytems, (LADS).
Hundreds of visitors including prospective students and their parents and varying stakeholders visited the HIT stand with a view to get information on programmes offered at the University and partnership opportunities.
Distinguished visitors to the HIT stand included the Minister of Higher and Tertiary Education, Science and Technology Development, Prof. Amon Murwira, Vice Chancellor of the Bindura University of Science Education, Prof. Eddie Mwenje, Deputy Chairperson of the Institute Board, Eng. Gloria Magombo, Dr Leonard Madzingaidzo among others. Vice Chancellor, Eng. Quinton Kanhukamwe joined the HIT team for the official opening of the Fair.
At the same event, Acting Director of the Technology Centre –Training, Eng. Ngoni Chirinda presented a paper on "Capacitating Industry through Precision Component Manufacture and Tool Reverse Engineering" at the Original Equipment Manufacturers Forum organised by the Confederation of Zimbabwe Industries (CZI) and ZITF.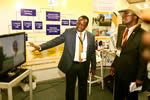 Eng. Chirinda outlined the work of the Technology Centre as the Institute's strategic unit that links with industry's various activities. He highlighted that both the Technology Centre's Research & Production Unit and the Technical Training Unit have a significant role towards industry retooling through skills transfer, reverse engineering of tools and/or components and import substitution of production equipment. He also highlighted that Hi-Tech Short Term courses are being offered to industry personnel to close the much needed skills gap, especially, the ever present technological gap that comes with every advancement in production equipment design. Eng. Chirinda also gave evidence of the work of the Technology Centre in providing high precision machining and reverse engineering; ranging from shafts, gears, flanges to press tools & dies at component manufacture level. He also added that complete fabrications and assemblies are also being reverse engineered and manufactured at the Technology Centre.