News
HIT Students Shine at E-Tech Africa Expo and Conference …Receive Endorsement from ICT Minister
The Harare Institute of Technology students stole the limelight at the recently held e-Tech Africa Conference 2016, where they showcased their e-tech applications and solutions; receiving special endorsement from the Minister of Information Communication Technology, Postal and Courier Services Honourable Supa Mandiwanzira.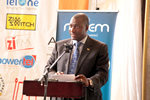 Minister Mandiwanzira said HIT continues to inspire the Zimbabwean technology industry through its mentoring of young technopreneurs, adding that the Institute has fast become Zimbabwe's technology hub producing the best technology engineers across various disciplines. "We appreciate the good work and devotion shown by the Institute in producing students who are developing business solutions that suit the local markets. We want to go into universities like HIT, where young students are demonstrating products which can go onto the market today, and support them to develop more of these technologies and applications that will help our economy and ICT's industry to grow", he said.
HIT's top students from the Schools of Information Science & Technology and Business and Management Science exhibited at the e-Tech Africa Conference 2016 hosted by the Ministry of Information Communication Technology, Postal and Courier Services at the Harare International Conference Centre from 9-11 March.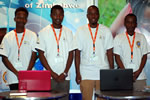 Among the HIT students exhibiting at the event were Kudzai Chasinda from Software Engineering, Tapiwanashe Matangira, Blessing Sibanda, and Tatenda Vhovha from the Computer Science department. Their exhibitions wowed a lot of visitors and delegates at the conference.
Kudzai Chasinda developed a music platform called Chase Music Player. The music application is downloadable on Google Play for free, and is designed to offer free music to android devices running on Android 4.0 or higher. The application is user friendly and can be used by all age groups and is uniquely crafted to enhance playlists.
Tapiwanashe Matangira developed a computer-programing solution coded in Shona called the Graphical Code Explorer. The programme is designed to incorporate the Graphical Programming Interface (GPI) where programmers do not need to type words when programming. The GPI is annotated in Shona, which it runs as the coding language; - a first in the history of programming. The GPI also has the ability to visualise code execution, making it easier for programmers to layout their programming paths without too many complexities.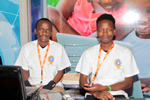 Blessing Sibanda and Tatenda Vhovha co-developed an educational system for children between the ages of 6-10 for all Windows users. The educational system has four demo games designed to enrich the minds of youngsters when mastering different subject concepts. Another exciting feature of their application is the addition of Mathematics involving addition, subtraction, division, and multiplication problems. The software also has biology and science concepts incorporating a visual learning setup with human structures that can be learned in Shona with a timed educational game based on high scoring system.
Blessing and Tatenda said their motivation comes from the fact that the gaming industry is dominated by mostly violent games like wars, extreme racing and personal fights with no provision of educational content to young scholars. "We then decided come up with the idea of developing educational games that will instill the right scholastic thoughts in children as they grow, especially those involving science, technology, engineering and mathematics (STEM) subjects.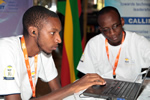 Other projects exhibited were Democratic Voice an E-Governance application developed by Walter Somerai, a Computer Science student and Mdabuko Magadlela, a Software Engineering student. The application gives a collective voice to the citizens and enables them to interact with government on issues of concern. LifeGuard is a health assistant application developed by Mazvita Chigariro from the E-Commerce Department to promote health awareness. It allows users to input their blood types, height and weight to calculate their Body Mass Index. The application synchronises this data and brings out a list of foods that the user must eat in order to prevent the onset of non-communicable diseases such as obesity, diabetes, cancer and hypertension.
Amos Suwali and Jeremia Mabodo from the Computer Science Department developed FacePass, a security surveillance desktop application that runs in cohesion with surveillance cameras. It has the potential to be used for security and general admission purposes in selected environments.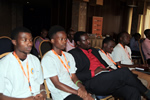 Mr Innocent Mapanga, Chairperson of HIT's Computer Science Department  said his department is working towards nurturing young software and applications developers. "The entire School of Information Science & Technology also coordinates mentorship programmes to see ensure our students' different business ideas are continuously reviewed so that they go into the market as bankable business solutions."
In his closing remarks at a cocktail event hosted by the his Ministry, Hon. Supa Mandiwanzira highlighted that it was high time the local industry starts working with these young innovators from HIT in solving their challenges, since it was much cheaper to craft in local systems rather than hiring externally developed systems which come with abnormal costs.