News
HIT Signs MoU with Elevate Trust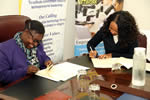 The Harare Institute of Technology has signed a Memorandum of Understanding with Elevate Trust concerning cooperation in engineering and technology research.
The prime objectives of the MoU are to collaborate in the research and development of technologies aimed at enhancing the capabilities of the Scietech Incubator under Elevate Trust, to co-operate and tap into researched technologies that may be available for commercialisation and to identify and carry out joint research projects for the benefit of both parties.
Elevate Trust will provide the necessary facilitation and co-ordination between the parties to enable HIT students' and staff's participation in the programme, and to access its production facilities. It will also avail the necessary materials required to carry out the various projects.
HIT will provide engineering skills for evaluating the projects currently under ET ScieTechInc, identify technological gaps in ET ScieTechInc processes; proffering solutions that will enhance reliability and efficiency. It will also provide supervisory staff who will participate in the programme, as well identify third parties as co-operating partners that may form synergies for identified projects.
HIT Registrar Mrs. Mary Samupindi signed the MoU on behalf of the University while, Ms. Sicelo Dube signed for Elevate Trust.
Elevate Trust is a youth leadership and development Trust which seeks to create youth leadership programmes, facilitate youth development in innovation, entrepreneurship and career development under the universal theme 'Science Pays'.