News
HIT Sets up Modernisation and Transformation Committee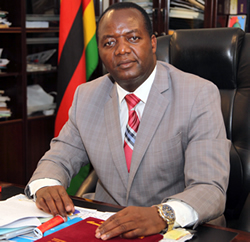 The HIT Vice Chancellor, Eng. Q.C. Kanhukamwe has appointed an Industrialisation and Modernisation Taskforce to implement the Ministry of Higher and Tertiary Education, Science and Technology Development transformation - further deepening its Science, Engineering and Technology orientation. The Taskforce, will among others, oversee the incorporation of culture and heritage studies, as well as medicine programmes at HIT.
The move follows a policy pronouncement by the Ministry of Higher and Tertiary Education, Science and Technology Development for all state universities in the country to lead the industrialisation and modernisation agenda in Zimbabwe through relevant teaching, research, linkages with industry and enterprise development.
Under the new dispensation, Universities will be required to have four core faculties of Culture and Heritage, Medicine, Engineering and Technology, among others.
Speaking on the development, Eng. Kanhukamwe said the appointment of the Taskforce is being responsive to the new thrust as enshrined by our ministry. "As HIT, we fully embrace this new paradigm, and our focus will be on consolidating gains in our traditional areas of Engineering and Technology; while focusing on the expansion of our programmes to include Culture and Heritage Studies, as well as Medicine," he said.
Eng. Kanhukamwe also added that the entire Institute was geared towards this new dispensation; pressing on the need for all University structures to work more effectively towards the success of the new programme. "This will ensure that we maintain our lead in terms of teaching and research in Engineering and Technology. We cannot renege on this position," he said. 
The Committee will be chaired by the Pro Vice Chancellor; Dr Maxwell Chanakira and will include the Universitys' Deans from the Schools of Engineering and Technology, Industrial Sciences and Technology, Information Science and Technology and Business and Management Sciences.
The Taskforce will be mandated to chart a transformational roadmap that resonates with the paradigm shift in the tertiary education sector.   Its work, as directed by the Vice Chancellor will be guided by the following imperatives:
The need for the University to be research –intensive; and to concentrate on research which proffers technological solutions to challenges faced by society;
Review of competences and skills of academic and administrative staff to ascertain available expertise and areas lacking
Strong interaction and collaboration with industry, with a view to proffering solutions to the challenges they face;
Collaboration with other Universities to solve local and global challenges;
Incubation of startups and creation of industries;
Designing curriculum that is responsive to local, regional, continental and global challenges; among others.
Speaking on his appointment to chair the Taskforce, Pro Vice Chancellor, Dr Maxwell Chanakira also highlighted the unique advantage that HIT had over other Universities. "Our work is made easier given the already existing Science, Engineering and Technology mandate that the University has. Our major role will be to find new ways of strengthening our schools of Engineering and Technology," he said. We have already rolled out a staff development programme for masters and doctoral studies so that our staff acquire high end skills needed to drive this agenda; while the University will also acquire the skills sets needed for this transformation. We already have a department of pharmaceutical technology, and we will soon be introducing a bachelor's degree in Radiology as well as a post graduate diploma in Radiology and Dosimetry.
Our approach is to build on these allied health programmes, until we reach our intended goal of establishing a faculty of medicine. We will also be exploring the establishment of Culture and Heritage studies which are important for national identity and national pride," said Dr Chanakira.
"The key that will transform us are partnerships with industry. Companies are already coming forth and we see a lot of potential in that area. We will also need to improve our research focus and outputs; introduce graduate programmes and increase our enrolment," he said.
Dr Chanakira also added that the new persuasion and inclination to a research-intensive University anchored on Science, Engineering and Technology was a natural evolutionary process that all universities must go through.
"The new dispensation by the Ministry is in fact following on a developmental trajectory that all universities must take as they evolve," he said.
Dr Chanakira also added that the new policy will provide impetus for universities to begin to provide programmes, teaching and learning which is STEM-inclined, context-based; while providing solutions to the national  challenges.