News
HIT Rotaractors Reach out to Mutemwa Leprosy Centre
The HIT Rotaract Club has donated food items, maize, clothing and coffee mugs to the Mutemwa Leprosy Centre in Mutoko.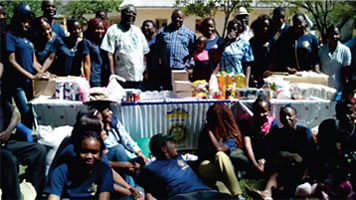 The visit was part of HIT Rotaract Club's community service outreach programmes.
The team, comprised of 40 HIT Rotaractors, - Rotarian Mercy Manyuchi who is the club Faculty Advisor, HIT Chaplain- Rotarian Mungate and three Harare CBD Rotarians - President Claudius Chikundura, Rotarian Lincoln Bhila and President Elect Della Nhiwatiwa.
The Centre secretary, Ms. Kajanga, expressed appreciation to the team for their initiative.  As a resolution, the team decided to visit the centre every semester with donations.
The HIT Rotaract Club, an affiliate of the Harare CBD Rotary Club is led by Arthur Bobo and was officially chartered on 14 March 2015.