News
HIT innovations amaze Microsoft
Microsoft Corporation has been amazed by innovations that are being churned out by the Harare Institute of Technology.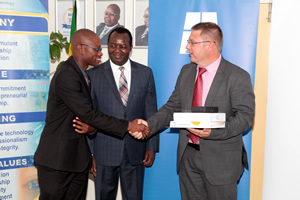 These remarks were made by Microsoft Corporation Services' Chief Technology Officer for Middle East and Africa, Mr Emil De Villiers at the Prize Giving Ceremony for the 2015 best Graduating Students from the School of Information Science and Technology's four departments.
He noted that the Capstone Design projects in emerging ICTs technologies like big data and cloud computing were exceptional.
"Your projects are phenomenal and there is so much innovation coming out of HIT. Therefore as Microsoft, we want to recognise these top students and thank them for their academic excellence and Capstone Design projects. It is absolutely fantastic to see how these students have progressed," he said.
Mr De Villiers added that as a result of the innovations, his organisation has been attracted to HIT and this was the beginning of a smart partnership. "Microsoft Corporation would like to continue to engage in looking for some specific areas where we can design some curriculum and some other projects that can enrich people's lives together. It's great that these students' innovations are on technologies that are applicable here in Africa, addressing the challenges that we face in our communities, thereby contributing to better lives in the continent," he said.
In his remarks, the Dean in the School of Information Science and Technology Dr. T. Padenga said by giving prizes to students, Microsoft was recognizing academic excellence within the school which is staffed with requisite qualifications in emerging fields in ICTs such as Big Data, Internet of Things and Cloud Computing.
HIT Vice Chancellor Engineer Q.C Kanhukamwe highlighted that the Harare Institute of Technology is a young, dynamic, innovative and entrepreneurial university looking for great collaborations with Microsoft Corporation and is optimistic that the partnership will take foot as soon as possible.
The students, Martin Muduva: Information Security and Assurance, Kudakwashe Muparuri: Software Engineering, Stephen Maduveko: Information Technology and Walter Mutembwa: Computer Science received Proline Tablets from Microsoft Corporation Middle East and Africa Cluster.
Martin Muduva, one the recipients of the Microsoft Corporation awards who graduated with a Bachelor of Technology Honours Degree in Information Security Assurance said he was very happy and feel very honoured to receive this award. "I am definitely motivated to do even better than I did during my first degree as well as coming up with other innovative technological projects," he said.
The graduates were urged to submit their application for the January 2016 Microsoft Internship Programme.