News
Visit to HIT's Industry Incubation Unit - Verify Engineering at Feruka Oil Refinery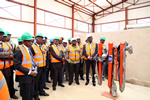 A delegation from the Ministry of Higher and Tertiary Education, Science and Technology Development, Reserve Bank of Zimbabwe (RBZ) Governor Dr John Mangudya, Vice Chancellors from all universities, Harare Institute of Technology and Verify Engineering management team visited Verify Engineering gas project at Feruka in Mutare on Sunday 02 April 2017 to unveil and showcase HIT'sIndustry and Business Incubation Unit for the conversion of coal to liquid fuels.
Speaking at the this occasion, the Minister of Higher and Tertiary Education, Science and Technology Development Professor Jonathan Moyo commended the Harare Institute of Technology saying their projects are a true realisation of the benefits of the STEM initiative.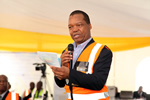 Addressing the delegation, Dr Mangudya challenged Zimbabweans to rise up and rebuild the economy. He said Verify Engineering's liquid fuel project fits well with the value addition and beneficiation of the ZIMASSET cluster that will lead to import substitution.
Dr Mangudya said focus must be on transforming the country from being a retail economy to a productive economy, adding that this will reposition Zimbabwe to become a major economic powerhouse. "We need to go beyond engineering designs to the economics of doing business. The $2,6 million you are asking for the project is doable provided it's commercially viable. We are a small economy with only 14 million people and some are in the Diaspora.
He added that the economy was on the rise and there is need to transform the economy. "We are the masters of our destiny, Zimbabwe is picking up as a country. We need to transform the economy using agriculture as a base, lets rise and build the country through various aspects.'' he said.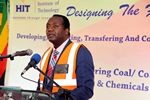 Harare Institute of Technology (HIT) Vice Chancellor Eng. Quinton Kanhukamwe said the university has a unique national mandate of developing, incubating, transferring and commercialising technology for rapid industrialisation."Verify Engineering is currently seized with the task of designing, constructing and commissioning a pilot plant of coal/coal bed methane to liquid fuel using the already existing Fischer Tropsch Technology as a precursor to the designing, erection and commissioning of an eight million litres of liquid per day commercial plant," he said.
Verify Engineering's Acting Chief Executive Officer Eng. Pedzie Tapfumaneyi said the company has just commissioned the air separation unit which produces 16.5 tonnes of liquid oxygen and more than 20 tonnes of gaseous oxygen daily.
He said the company requires US$2.6 million to complete the commissioning of the two plants and to acquire the necessary distribution structure.
University of Zimbabwe Vice Chancellor Professor Levi Nyagura said industries should come out of universities and called for universities to pursue industrial incubation programmes in order to revive some of the key sleeping entities.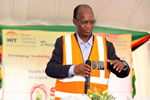 The Ministry of Higher and Tertiary Education, Science and Technology Development, Harare Institute of Technology and Verify Engineering Private Limited entered into a Memorandum of Agreement effective 23 March 2017.
The objective of the agreement was to make Verify Engineering an integral part of HIT as a strategic business unit, focusing on coal and coalbed methane to liquid fuels and chemicals (XTX) Projects.
The agreement came against the backdrop of government policy to ensure that higher and tertiary education is driven and underpinned by science and technology, and the need for universities to come up with tangible research outputs, vital for national development.
Verify Engineering which is now an integral part of HIT was established in 2005 by the government as a Special Purpose Vehicle to pursue alternative sources of energy.
Over the years the company has designed a pilot plant that produces 5 000 litres a day, synthesized an iron based catalyst and commissioned an air separation unit before constructing an acetylene plant which is yet to be commissioned.
Once the plant becomes fully operational it will produce direct products such as fuel, tar for roads, liquid gas for domestic and industrial use, sulphur, ammonia for fertiliser production, carbon dioxide and electricity.