News
HIT Hosts Organisation for Women in Science for The Developing World Zimbabwe Chapter Launch and 25th Anniversary Celebrations
The Harare Institute of technology is hosting the Launch of the Organisation for Women in Science for the Developing World Zimbabwe Chapter and 25th Anniversary Celebration.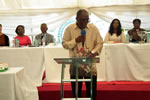 In his opening remarks, Dean Eng. P. Muredzi said that HIT champions empowerment of women in science and technology education as evidenced by women taking leadership roles as the Institute 's Registrar, Research Board chairperson, chairpersons of departments of Industrial and Manufacturing Engineering, Polymer Technology and Engineering, Information Technology, Technopreneurship to name but a few. "Our enrolment into our various engineering and technology degree programmes now records over 35% females and the increase is being evidenced each passing academic year, not to mention that our female students have excelled in engineering and information technology national and international competitions," he said.
Dean Muredzi added that "A state that does not educate and train women is like a man who only trains his right arm. Equal access to opportunities in Science, Technology, and Engineering & Mathematics for women translates in bringing more of the neglected half of the global population to innovate for a greater good. When women are absent from the innovation space, their lived experiences, challenges and dreams are likely to be excluded in the design of research, products and services that matter most to them. According to Jack Ma "If you want your company to be successful; if you want your company to operate with wisdom, with care, then women are the best"
"The 2016 African Human Development Report states that gender inequality is costing Sub Saharan Africa around a 100 billion USD a year.
Women and men's collective leadership and scientific undertakings will be critical to designing, piloting and scaling African circular economies that respect the environment, mitigate climate change, create continent wide interconnected economic prosperity that promote peace and safe circulation of people, goods, wildlife and knowledge. Bridging the gap for women in science and technology is essential to making these dreams not only a possibility but a certainty! On behalf of the HIT administration, staff, and students, I heartily congratulate the organisation and join you all, in the celebrations," said Dean Muredzi.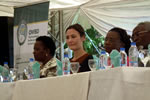 Other notable presenters at this forum include Eng. Fortunate Farirai, the OWSDZNC presdient, Prof Gabriel Kabanda (ZAS), prof Jennifer Thomson (owsd International President), Dr Dalia Garwe (TRB), Prof Grace Mugumbate (Chinhoyi University), Ms Rumbidzayi Muyambo (TechZim), Ms Celo Dube (Elevate Trust), Eng. Lynnette Mudzingwa (HIT), dr Chipo Shonhiwa (Ministry of Primary and Secondary Education), Ms Erin Johnson OWSD International), Eng. A. Msipha and Dr J. Nzuma (OWSD Zimbabwe).
OWSD is the first international organization for women scientists from the developing world with the objective of strengthening their role in the development process and promoting their representation in scientific and technological leadership.
It provides career development and networking opportunities for young women scientists throughout the developing world at different stages in their careers. OWSD has over 5,000 members and is committed to increasing the number and quality of women scientists in those countries and regions that need the most support. To become a full member, applicants need an MSc or PhD in scientific fields. Networking opportunities include regional workshops and activities; national chapters and international conferences. For committed young women scientists, OWSD has an all-expenses-paid PhD fellowship programme as well as an annual awards programme (sponsored by The Elsevier Foundation and in partnership with TWAS) to honor and celebrate women scientists' early career success.