News
HIT Hosts First World Bank Water and Sanitation Hackathon
The World Bank Zimbabwe Office hosted its first Water and Sanitation Hackathon to address challenges in water and sanitation services (WSS) delivery in the country at the Harare Institute of Technology. The Hackathon brought together practitioners, community members, and programmers in a 48-hour marathon to develop technical solutions that could improve water and sanitation services for Zimbabwe's consumers.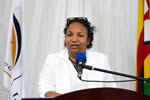 The objective of this event was to raise awareness and showcase the potential of local developers to craft innovative technical solutions and applications for addressing the challenges of water and sanitation service delivery in Zimbabwe. The event also provides a link for various stakeholders, including the government, academia and software developers, private sector and financiers, citizens associations and civil society to have a close interaction on these issues. The Hackathon showcased the potential of the knowledge economy as a driver of growth and jobs in Zimbabwe.
Officially opening the event, the World Bank Zimbabwe Country Director Ms. Camille Nuamah outlined that the Water and Sanitation Hackathon will bridge various sectors and connect the government and technology communities around a shared challenge. She added that the Hackathon would encourage a distinct culture of open collaboration and bringing together stakeholders who typically would not have an opportunity to engage within their respective professions.
Deputy Minister of Information Communication Technology, Postal and Courier Services, Honourable Dr Win Mlambo challenged the innovative solution developers taking part in the Hackathon to identify and assess the current interventions and see what is working and what is not working well.
HIT Vice Chancellor, Engineer Q.C. Kanhukamwe  expressed deep gratitude to the World Bank for hosting the first ever water and sanitation Hackathon at HIT, adding that the University has a mandate for technology development, incubation, transfer and commercialisation. "The 2016 Water Hackathon is the first of its kind, bringing together software developers in Zimbabwe with the aim of not only increasing awareness of water and sanitation challenges that our country is facing but also providing viable solutions to these challenges," he said.