News
HIT establishes Technology Transfer, Commercialisation and Licensing Centre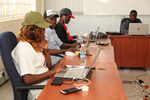 The Technology Transfer, Commercialisation and Licensing Centre (TTCLC) is a newly established entity responsible for the management of the Institute's Research, Development and Innovation outputs. The Centre is responsible for technology transfer in terms of commercialisation of inventions and discoveries, tech-licensing and business ventures including joint venture partnerships and venture capital. TTCLC is the hub for venture mentoring services and establishment of a cross functional technopreneurship forum. The main role of the TTCLC is to manage the University's Intellectual Property and Innovation Policy. This role includes advising on the synthesis and extraction of registerable IP from staff and student projects.
The TTCLC was established on 1 February 2018 and is currently carrying out an awareness exercise throughout the University on its services. 
The TTCLC is currently finalizing the alignment of Policy Formulation documents which are required for the protection of the Institute's Intellectual Property such as Non-Disclosure Agreement (HIT-NDA) for both staff members and students, Royalties Sharing Agreement (HIT-RSA), Invention Disclosure (HIT-ID) and the Institute's Student Project Copyright Agreement (HIT-SPCA). The review of the HIT-IP Policy is expected to be completed by the end of the Second Quarter. The purpose of the review is to enable the referencing of the policy with the supporting agreement forms that are currently being developed. The alignment of the aforementioned policies with the IP Policy will enable the ease of establishing Business Startups, Licensing and Management of research outputs.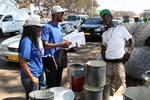 The TTCLC was responsible for the coordination of the Institute's 100 Day Projects. A total of 23 projects were carried out by different Schools and Centres of Excellence with seven flagship projects being reported on weekly basis to the Ministry. These include the Forensic Laboratory, Billing System for Local Authorities, Transformer Project, Innovation and Digital Thinking Laboratory, Production of Refractories, Production of Continuous Power Supply Units for TelOne and Beneficiation of Lithium to Lithium Carbonate.
As from 1 February 2018, the Centre has filed three research outputs. The majority of the Patents will be filed as from 1 July after our student projects have been submitted. The target is to file at least 25 projects and generate almost 15 licenses for the projects. Some of the projects will be patentable but not commercialisable, therefore, the number of licenses might be less than the patents.