News
HIT & CITC (Iran) in Technology Transfer Drive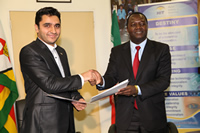 The Centre for Innovation & Technology Cooperation of the Presidency of Islamic Republic of Iran (CITC) has entered into an agreement of technology transfer and collaborative research with the Harare Institute of Technology.
The Memorandum of Agreement was signed at the Harare Institute of Technology by CITC Technology Attaché, MrMortezaRastegaran,HIT Acting Vice Chancellor Engineer Kanhukamwe and witnessed by the His Excellency, the Ambassador of the Islamic Republic of Iran in Zimbabwe, Dr Mohammad Pournajaf and some senior members of HIT management staff.
Through this relationship HIT and CITC are desirous and committed to cooperate in the areas of Technology transfer from Iran to Zimbabwe in the following field of technology, Nanotechnology, Biotechnology, Agricultural Research and Food Science and technology, Information and Communication Technologies, Health and Medical Sciences, Metallurgy, Industrial Technology, and further areas that may be mutually agreed upon in the future.
They shall also conduct collaborative research and development work in identified areas, exchange and secondment of expertise and training personnel, sharing of information and research findings, produce outstanding graduates who are responsible citizens and who can become global leaders, accelerate the development and application of technology in consonance with the industrialisation of Zimbabwe as well as hosting, high impact international conferences and seminars.
In his remarks at the signing ceremony, the Acting Vice Chancellor, Engineer Q.C Kanhukamwe said that this is the birth of a project that underlines the uniqueness of HIT whose mandate is the development, incubation, transfer and commercialisation of technology as well as producing human capital for greater national industrialisation. "HIT's uniqueness lies in providing practical oriented technology degree programmes that are underpinned by technoprenuership and facilitated by the state-of-art workshops and laboratories. Therefore we continuously seek to buttress this by seeking strategic partnerships and collaborations"
Engineer Kanhukamwe added that through its Strategic Plan; Designing the Future: Vision 2015, HIT has focused on a plan that seeks to bring tangible results in a short period in research, technology transfer, incubation, and commercialization for the rapid industrialisation of the nation, hence this MoU. "This is made possible through entering into strategic partnerships and collaborations with government, private sector, institutions of higher education and other universities from across the globe. For this reason, we are happy that the Centre for Innovation and Technology Cooperation of the Presidency of the Islamic Republic of Iran (CITC) is here today to work with us to create an environment that fosters collaboration and innovation to enhance the development, transfer, and commercialization of technology.", he said.
"It is my sincere hope that this is the beginning of a long lasting relationship that will contribute towards improving the economic fortunes of our country.", said Acting Vice Chancellor Kanhukamwe.
TheMemorandum of Understanding shall enable HIT to acquire technologies in the area of biotechnology (specifically bioreactors) and Information Sciences (specifically biometric application technology).
In fulfilling its part to this technology transfer agreement, Harare Institute of Technology shall set aside an office space for CITC with the aim of technology commercialization of Iranian hi-tech products at this Institute so as to facilitate and accelerate rapid technology transfer.
HIT shall also facilitate the importation of hi-tech products for transfer and adoption activities as well as facilitating the registration process of Iranian technological products in Zimbabwe.
In his speech, the CITC Technology Attaché, Mr Morteza Rastegaran said that his country would like to start some activity with Zimbabwe and the signing of this MoU is a very good starting point. " We believe in technology is a tool for progress and all people have a right to it. We want to start cooperation with HIT in order to empower people through technology and bring progress to the people of Zimbabwe." he said.
Mr Rastegaran also added that Iran has some technology that can help agricultural growth, and more than 400 medicinal products that Iran is ready to export or produce in Zimbabwe.
"We are ready to work in various fields of technology with Zimbabwe, particularly the Harare Institute of Technology because it is a young university and this boost is necessary for growth." he said.
We are happy of the existing cordial relations between the Islamic Republic of Iran and Zimbabwe which have opened a lot of areas of cooperation subsequently strengthened by reciprocation visit between the two countries heads of state. This has resulted in the government of the Islamic Republic of Iran extending its offer to Zimbabwe on technology transfer related to their scientific and technological achievements.
Subsequently, visits by the Harare Institute of Technology delegation to the Centre for Innovation and Technology Cooperation in Tehran last year was a major success.The visit to CITC, Tehran, and Islamic Republic of Iran was facilitated by the Iranian Consulate, Harare; in conjunction with the Vice Chancellor's Office, Harare Institute of Technology. The visit delegation comprised of Eng. Q. C. Kanhukamwe (Vice Chancellor & Head of Delegation), Dr.T. Padenga (A / Dean - School of Information Sciences & Technology); and Mr. P. Muredzi (Dean – School of Industrial Sciences & Technology).
The main objective of the visit was to initiate cooperation in technology transfer in identified areas and enable the establishment of an Iranian Technology Corporation Office (TCO) at the Harare Institute of Technology as a precursor to broader future cooperation.