News
HIT @ The Second Edition of the Great Dyke Career Fair 2019
Minister of Primary and Secondary Education Honourable Paul Mavhima has said technology will drive the nation towards middle income economy status by 2030.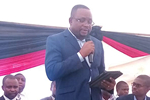 Speaking to high school learners at the second edition of the Great Dyke Career Fair at Gresham Grounds in Mandava, Zvishavane, held under the theme "Defining your career path," Honourable Mavhima said the application of technology is vital for national development, citing technology development as the inspiration behind the crafting of the new curriculum for primary and secondary schools.
The Harare Institute of Technology and other institutions of higher and tertiary learning, as well as corporates attended the fair which was attended by over 2000 learners from the Midlands and Masvingo provinces. The event is aimed at providing a platform for interacting with high school learners and providing information on degree choices and career options.