News
HIT Academic to Attend Techwomen Mentorship Programme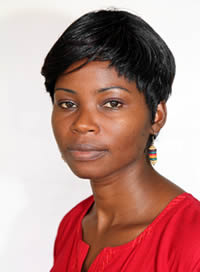 Chairperson and lecturer of the Department of Software Engineering, Ms Prudence Kadebu is set to attend a five-week TechWomen mentorship and exchange program in the San Francisco Bay Area, Silicon Valley and Washington DC, in the United States from 23 September to 29 October 2018.
 
As a TechWomen Emerging Leader, Ms Kadebu and her other peers from Africa, Central and South Asia and the Middle East are joining a strong network of women who are committed to advancing their careers and pursuing their dreams while paving the way for those who follow.
The TechWomen programmme is a professional opportunity as it challenges participants to think big and view their participation in TechWomen as a lifelong commitment to making an impact locally and across the globe.
"We hope that your time in the United States energizes and invigorates you professionally, while inspiring you to create new initiatives, mentor women and girls in your home country and become a change agent in your community. We are also looking forward to welcoming you to the United States this fall for a five-week mentorship and exchange program in the San Francisco Bay Area and Silicon Valley, concluding in Washington, DC.  Congratulations on your selection once again! We look forward to meeting you in September," wrote Ms Jillian Scott, leader of TechWomen
Commenting on her invitation to TechWomen mentorship and exchange programme, Ms Kadebu said it is a great honour to be selected for such a prestigious mentorship program. "It is a 'dream come true' for me. I feel very excited and am already looking forward to this life changing opportunity to learn, explore and share experiences. This is a great platform for me to not only represent Harare Institute of Technology but also the African continent," she said.
Ms Kadebu added that she has been able to mentor many young minds before but this will bring greater opportunities for her to impact more on young people who look up to her as a role model.
"Going to Silicon Valley means I get to see first-hand how the Software industry over there thrives and learn the processes that have brought their success stories and how we can also boost our own software industry. I also would like to understand how beneficial partnerships are forged between industry and academia and how knowledge flows between the two for economic growth. I am very confident this will be an enjoyable journey for me. I urge all young people out there to adopt a goal-oriented approach to life and never give up until they achieve each and every one of their set targets," she said.