News
Gongera Scoops First Prize in HIT Pre- NESAC Finals
Tinashe Gongera, a final year Electronics Engineering student won the first prize in the HIT 2015 Pre-National Engineering Students Awards Competitions (NESAC) held on campus on 22 May.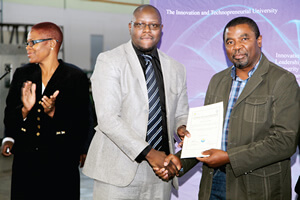 Gongera beat five other contestants with his Capstone Design Project entitled – 'Design of a Portable Biometric Payroll and Mobile Payment System.' In this project, a portable fingerprint scanner is used to record time attendance for employees. The system automatically calculates employee salaries according to grades, sends each employee a copy of their payslip via email and pays them their salary through a mobile payment platform such as one wallet or ecocash with payee tax and other deductions already effected.
The system eradicates ghost workers, provides a payroll solution in remote areas, provides authenticated time attendance for performance measurement and reduces payroll management costs, printing and bank charges costs while enhancing the accessibility of the payroll due its portability.
Tinashe is now set to contest at the 2015 NESAC competitions finals set for August.
The five other contestants who participated at the pre-finals were drawn from Chemical Process Systems Engineering, Electronic and the Industrial Manufacturing Engineering Departments.
Auxillia Chivanga from the Chemical and Process Systems Engineering came second after presenting her project on the Design of a plant to produce paper from bagasse while Duvalang Makurachibvumo from the Industrial and Manufacturing Engineering Department was third with his project on the Design of a Plant for the Generation of Electricity from Municipal Waste Water.
The other three contestants were Munyaradzi Mudzingwa from the Electronics Engineering Department, Emmanuel Ndara from the Industrial and Manufacturing Engineering Department and Patience Kanyenga from the Chemical Process and Systems Engineering Department.
In his opening remarks, Dean of the School of Engineering and Technology Mr. P. Muredzi said that the Harare Institute of Technology has a responsibility to nurture, train and educate technologists, engineers and innovators of tomorrow to equip them with analytical and problem solving skills that will enable them to adapt to future unknowns.
"We won the first prize last year at the National Finals Competitions, and I hope that this year we will also come first again", said Dean Muredzi.
Guest of Honour, Engineer Mukurunyorova from the Zimbabwe Institution of Engineers applauded the linkage between engineering practice, engineers and educational institutions as very important. "It is my belief that these awards are the beginning of a modern engineering service that will transform our country's socio-economic situation, especially in -line with the ZIMASSET development agenda. The future of engineering in Zimbabwe is affirmed as these competitions make a significant contribution to our economic, social and technological progress as a nation", he said.
A panel of engineers from the Zimbabwe Institution of Engineers (ZIE), Confederation of Zimbabwe Industries (CZI), Scientific and Industrial Research and Development Centre as well as the Zimbabwe Manpower Development Fund (ZIMDEF) adjudicated the competitions.