News
GET Programme Hailed for Promoting Entrepreneurship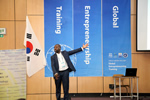 The Harare Institute of Technology's School of Business and Management Sciences, in collaboration with the Handong Global University of South Korea successfully hosted the second edition of the Southern Africa Global Entrepreneurship Programme at the Zimbabwe School of Mines in Bulawayo.
The event was held from 10 to 18 July 2017 under the theme:  "Opportunistic Entrepreneurship for Sustainable Industrialisation".
The training targeted entrepreneurs, the small to medium enterprises sector, and entrepreneurship enthusiasts.
Participants were trained in self-confidence, creating business proposals, and synthesizing, collecting and appreciating data.
In an interview after the graduation of over 50 participants who underwent various entrepreneurship programmes, President of Handong Global University, Professor Soon Heung Chang said the objectives of the entrepreneurship training are to create jobs and make the world a better place.
"In the future, everyone must become an entrepreneur. Zimbabwe has vast potential to produce more entrepreneurs because Zimbabweans like to cultivate their potential capabilities.
"Zimbabwe has abundant underground resources and its people have abundant potential and infinite possibilities of development. It also facilitates opportunities for people to understand more about entrepreneurship and come up with problem-solving skills," he said.
The GET programme focuses on poverty alleviation, inculcating the entrepreneurship mindset among participants and provides opportunities for creation of regional ventures and building capacity for sustainable development.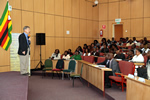 A specialist in the entrepreneurship mindset and creative innovation, Professor Gihong Kim said entrepreneurship largely contributes to economic development.
"Business books state that three things are needed for development. These include natural resources, human resources and capital, but some countries are not flourishing. This is because some of the countries are missing the fourth element (entrepreneurship) which brings life into the three main components. Entrepreneurship is a creative mindset which involves creating something out of nothing and looking at the world, not the way it is, but the way it should be," he said.
HIT Vice Chancellor, Engineer Quinton Kanhukamwe said plans are underway to ensure that the GET programme was spread throughout the country.
"Our objective as a university is to act locally and impact globally; hence it is vital for us to partner with the Handong Global University. Programmes like these will tap into Zimbabwe's huge entrepreneurship potential as we have many young people who need moulding, and assistance in leveraging partnerships and forging entities.

"We have plans of making the GET programme a national initiative by hosting it around the country and mounting similar programmes in all provinces. Within the country we are in a position to mobilize resources to assist entrepreneurs to move from startups to companies. We have since trained an excess of 200 entrepreneurs," he said.
A group of enterprising young entrepreneurs, Agricultural Network (AgriNet) emerged winners of the entrepreneurship competition which was part of the training programme.  The project is an online application system which enables farmers to market their produce to local and international buyers using electronic gadgets.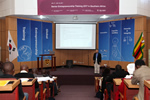 AgriNet's Chief Executive Officer, Mr Ronny Murahwa said the online application system can be accessed through a mobile phone application. The website provides farmers with a cheap and efficient platform to market their produce to potential buyers worldwide.
 "We came up with this application after realising that farmers spend days at tobacco auction floors trying to sell their produce, resulting in them spending money on accommodation, food and at times losing their valuables due to robbers," said Murahwa.
Over the years the number of farmers risking their lives by sleeping at the tobacco auction floors in Harare battling to sell their golden leaf has been overwhelming.
Statistics show that auction floors which used to cater for about 600 white commercial farmers only before the land reform programme cannot contain the pressure being exerted by overwhelming numbers of tobacco growers which have ballooned to about 97 000 this season.
"AgriNet offers ready buyers, locally and internationally and we also send inspectors to check the quality of the farmers' produce then send the pictures and reports to the buyers.
"The farmers can also send pictures of their produce to us then we forward to the buyers. Therefore, costs incurred when going to sell produce at the auction floors or market places are eliminated," said Mr Murahwa.
He said the company was in the process of seeking an investor to fund the programme.
"Even though we had minimal time to come up with the idea, AgriNet is something real because the numbers are real and we believe that in the next five years we would have penetrated the global market," said Mr Murahwa.
Subsequent to the hosting of the GET programme, the Senior Executives Entrepreneurship Training (SEET) and the Junior Entrepreneurship Training were simultaneously held at the same venue.
SEET targeted senior executives in the public and private sectors, non-governmental institutions and training institutions, while the JET targeted high school students.
The first GET programme was held at the HIT campus in Harare in January 2016, with over 150 participants.
Handong Global University has been conducting GET training sessions since 2008.
The GET programme has so far produced over 2 600 graduates and nearly 630 volunteer students.
Article adapted from Wilson Dakwa