News
Empowered Students Leadership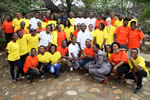 The Dean of Students Division is at the centre of coordinating all student programmes and activities; with an approach based on empowerment and leadership development. The division facilitates the holistic development of students and the realisation of their full potential, within a conducive learning environment.
The Division designs activities that endow students with skills and knowledge to meet the challenges of campus life and the wider world, and promotes and coordinates programmes and activities that strengthen faculty associations, clubs, and societies on campus in liaison with the School Offices and Student Representative Council. Students are viewed as the key stakeholder within the Institute Community. "We don't control students," says Dean of Students Joshua Chandauka. "We help them to grow. We empower them to grow and we create a conducive learning environment so that they can see themselves and navigate the environment," he says.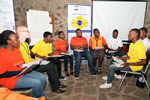 The Division engages in a wide range of activities and programmes;- the most recent being the Division hosted the Students' Leadership Development Seminar in December 2016 to train students on self-awareness, individual leadership strengths and style to increase positive impacts on and off campus. The workshop was held under the theme "Inspire to Change Lives."
Students were drawn from the Student Representative Council (SRC), Class Representatives and other students who hold influential positions on campus.
Speaking after the completion of the Students' Leadership Developmemt Seminar, Mr Chandauka said participants should be able to demonstrate deeper self-awareness of individual leadership strengths and style to increase positive impacts among other students. "They will also apply the skills, tools and techniques they have learnt to communicate effectively a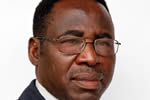 nd to build collaborative relationships to achieve positive results. The students will also use the knowledge and skills to manage their resources, systems and practices to implement effective leadership
Mr Chandauka also echoed the Vice Chancellor's sentiments that apart from promoting the establishment of discipline-based clubs at HIT, the Division should encourage the HIT student body to take centre stage in serving communities they hail from.