News
Electronic Engineering Department Staff Seminar
The Electronic Engineering Department held a two-day staff seminar under the theme "Driving Innovation and Strategic Technology Transfer Through Technopreneurship" from 19-20 July 2018.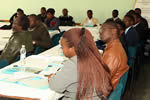 Chairperson of the Electronic Engineering Department, Eng. C. Kanyunga said the objectives of the seminar were to discuss departmental activities, the generation of new research ideas and capacity utilisation of the department's resources. "This seminar is discussing the department's vision, tactical plans, ethics, review of the programme structure. Other issues include the department's research areas and projects, SWOT analysis, academic regulations and examination procedures, internship placement and industrial engagement plans, project design and procedures, project supervision and mentorship as well as project proposal writing and engineering dissertation writing," he said.
Eng Kanyunga added that the seminar was also an induction workshop to prepare themselves for hosting a number of academic workshops and conferences in the near future. "We are also working one modalities to ensure our innovations and technologies are transferred into the community as well as how best to individually and collectively contribute to the research agenda in line with the "New National Dispensation." We have also invited industrialists to give us a framework of their expectation, their needs, and how to advise us on how we can assist as a department in developing  synergies that will enable fruitful collaborations and cooperation's with them," he said.
The seminar also addressed by the Vice Chancellor Eng. Q.C Kanhukamwe, Dean of the School of Engineering and Technology Eng. P. Muredzi and the Director of Technology Transfer and Licensing Centre (TTLC) Eng. T. Garikai.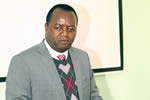 In his address, the Vice Chancellor Eng. Q.C Kanhukamwe emphasised that the department's research activities must be responsive to the needs of the nation. "There is nothing you can't do if you become focused and programmatic. Let's raise out research activities and believe in ourselves that we can do anything together, making sure that we move forward. Let me assure you of our support and anytime you wish to engage us, we will be there. Our doors are open for business and innovations," he said.
The Vice Chancellor also urged departmental staff to work closely with the Technology Transfer, Commercialisation and Licensing Centre (TTCLC). Eng. T. Garikayi, Director of the Technology Transfer and Licensing Centre (TTLC) also gave a presentation of some of the research projects that are in the process of being commercialised and licensed.
The Technology Transfer, Commercialisation and Licensing Centre (TTCLC) is a newly established entity that is responsible for the management of the Institute's Research, Development and Innovation outputs. The Centre is responsible for technology transfer in terms of commercialization of inventions and discoveries, tech-licensing and business ventures including, but not limited to, joint venture partnerships and venture capital. It is the hub for venture mentoring services and establishment of a cross functional technopreneurship forum. The main role of the Centre is to manage the Harare Institute of Technology's Intellectual Property and Innovation Policy. This role includes advising on the synthesis and extraction of registerable IP from staff and student projects.