News
Dean Muredzi Scoops the "Education Leadership Award"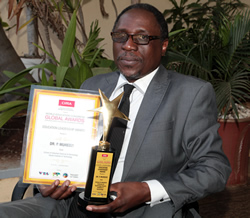 Mr Perkins Muredzi, the Institute's Dean in the School of Industrial Sciences & Technology was awarded the "Education Leadership" global award by the Chartered Institute of Management Accountants (CIMA) at the World Education Congress that took place in Mumbai, India.
The award is in recognition of his works in championing the development of the Institute's Intellectual Property Policy and advocacy work that enables IP registration in teaching departments.
In the citation, the organisers of the World Education Congress credited Dean Muredzi for his astute leadership in publishing, research, teaching, and faculty administration; noting his drive towards the promotion of Intellectual Property in Research Institutions.
The congress was focused on building on a vision and strategies for Higher Education Institutes and providing exposure to latest education tools, technologies and solutions.
Dean Muredzi was recently elected the Vice Chairman of the Zimbabwe Intellectual Property Development Trust, which is focused on championing the development of intellectual property policy, and advocacy work that enables IP registration.
Mr Muredzi is an intellectual property (IP) consultant with knowledge in patent drafting, specification, searching, and IP auditing and registration.
He said his achievement did not come on a silver platter, but is a result of hard work, discipline and the desire to develop his people and the nation at large.