News
"Education Key to National Security" - Zimbabwe Defence College
Over 30 participants and staff members from the Zimbabwe National Defence College Course 4 of 2015 visited the Harare Institute of Technology to familiarize with the Institute's mandate and activities and its contribution in enhancing national security.
In his introductory remarks, Air Vice Marshal M. T Moyo said the Zimbabwe National Defence College's 11 month training programme focuses on strategic national security and involves visits to selected institutions of higher learning, commerce and security sectors.
"The purpose of our visit is to enable participants and staff members of the National Defence College to appreciate the assets and resources that we have in the country. Education is one of them because it plays a very important role in national development, which has a direct and indirect effect on national security," said Air Vice Marshal Moyo.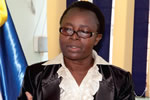 HIT Registrar, Mrs Mary Samupindi gave a presentation about the Institute's mandate – the advancement of knowledge through the development, incubation, transfer and commercialisation of technology. She stated that while the Institute is focused on the development of technological expertise to the highest degree possible, HIT also intends to develop a science park and to provide educational programmes focused on the design, production and maintenance of technology relevant to industry, commerce and other sectors of the economy.

Dean Perkins Muredzi of the School of Industrial Sciences and Technology apprised the group on the Institute's research and development works while Eng. Ngoni Chirinda, Acting Director of the Technology Centre explained the Institute's activities in the design, production and maintenance of technology.
The group was later led on a tour of the campus facilities, particularly the laboratories and workshops where there were shown some of the research and development projects and products as well as some utility models and prototypes.
Participants of the Zimbabwe National Defence College's Course 4 of 2015 are drawn from mainly the Zimbabwe Defence Forces, Prison and Correctional Services, Zimbabwe Republic Police, Central Intelligence Organisation, President's Office, Ministry of Finance and Economic Development, and security forces from Botswana, Kenya, Namibia, Nigeria, Pakistan, Tanzania and Zambia.