News
E-Commerce Students Awarded WIPO Certificates

Over 50 students from the Electronic Commerce Department were awarded with certificates after successful completing World Intellectual Property Organization's Distance Learning Courses which will enable them to apply intellectual property knowledge in the ever-growing global electronic commerce business in Zimbabwe and the Southern African region.
The part three and part four students were presented with their certificates amid pomp and fanfare at a ceremony organised by the School of Business Management Sciences and the Department of Electronic Commerce and attended by representatives from various corporate organisations as well as ARIPO AND WIPO.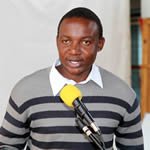 In his opening speech, Washington Chaduka, a part three E-Commerce student congratulated his colleagues for managing to acquire certificates that are going to equip them with the relevant skills and techniques that are needed in the industry.
He applauded WIPO for reaching out to university students in African countries so that they have an appreciation of intellectual properties and how exactly it applies in our societies. "Electronic commerce, it has brought about the advent of new technologies, innovations and inventions that need to be protected through intellectual rights", said Washington.
Speaking at the presentation ceremony, the guest of honour, Dean Perkins Muredzi, HIT Dean of the School of Engineering and Technology praised the good relationship and cooperation between ARIPO, WIPO and HIT aimed at enhancing the Electronic commerce curriculum established at HIT.  
"This cooperation started in 2009 and involved support from ARIPO and WIPO in the study of IP specialised modules by students enrolled in the E-Commerce degree programme at HIT. The support also involved training of HIT academic staff in IP and its protection", said Dean Muredzi.
Dean Muredzi added that that this initiative will result in HIT being able to give its students international exposure to curriculum being offered globally and readying HIT graduates to be recognized globally as E-Commerce consultants and being able to apply IP knowledge in the ever growing global E-Business which Zimbabwe and the Southern African region has embraced.
"It is envisaged that in the near future the School of Business and Management Sciences will embark on an exercise to localize the IP courses currently being offered online by WIPO and provide the courses as part of the BTech (Hons) Electronic Commerce degree programme curriculum", said Dean Muredzi.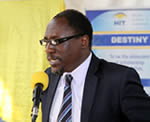 Dean Muredzi argued that IP is very important to E-Commerce and E-Commerce is important to IP. He said E-Commerce, more than any other business systems, often involves selling products and services that are based on IP and its licensing. "Music, pictures, photos, software, designs, training modules, and systems can all be traded through E-Commerce, in which case, IP is the main component of values in the transaction. IP is important because the things of value that are traded on the internet must be protected using the technological security systems and IP laws, or else they can be stolen or pirated and whole businesses can be destroyed", he said.
Electronic Commerce based businesses usually hold a great deal of their value in IP; so the valuation of one's E-commerce business will be affected by whether one has protected his or her IP. Many E-Commerce companies, like other technology companies, have patent portfolios and trademarks that enhance the value of their business.