News
Chancellor's Games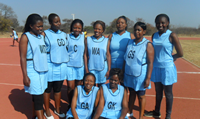 The inaugural Chancellor of Zimbabwe State Universities Staff Games kicked off at the National University of Science and Technology from 27 to 31 August 2012 under the theme - Promoting Unity and Diversity through Sports. The games were officially opened by Minister of Higher and Tertiary Education.
In a speech read on his behalf by the Minister of Higher and Tertiary Education, Dr Mudenge the Chancellor, President R.G Mugabe said institutions of higher learning should take the lead in promoting sport in the communities they serve. "I urge every university to set aside a sporting afternoon where everyone should be encouraged to participate. I can assure you that everyone's work performance will improve whether as teachers or administrators," said President Mugabe.
For the first time, HIT was represented at national level by its staff members at a sporting event. A team of 25 staff members from various departments were hosted by Hillside Teacher's college.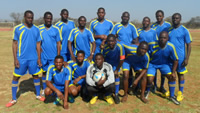 HIT Soccer TeamDespite the lack of sporting facilities on campus, Team HIT managed to raise the Institute flag high as the team competed in soccer, netball, pool, athletics and chess. The netball team managed to sail past through ZOU (17-10). The soccer team lost by an identical margin of two nil against the more experienced UZ and GZU but won 3 nil against MSU on technicality. Mr Nyamhosva won the 400m athletics event where he came first while Mr Mutunami won more than half of the games he played in the game of chess.
The Chancellor of Zimbabwe State Universities Staff Games (CZSUSG) will be held annually to promote unity among state universities staff and shall be hosted by different universities.
Team HIT
List of members who attended
Muriki Gaylord

Matsika G

Muradzi O

Sihlahla F

Ndagurwa K
Murahwa R

Marufu F

Haki C

Ndapasuwa N

Kasukusa N

Nyamhosva W

Mukumba C

Gwini N

Murindagomo O

Mudzamba V

Tongonya V

Juru

Chibika

Nyakudya L

Tawanja N

Mutenhabundo

Matambura P

Mutunami S

Jambo T

Zvarevashe W