News
Chairman's Statement: 30th Institute Board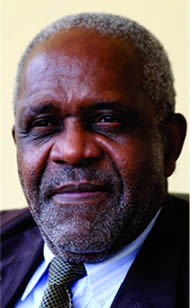 I wish to welcome members to our first Board Meeting for 2018.
My exhortation to the Board, Management, staff and students is that we all rally behind the Government's call to adopt the, "Programmatic Approach." I reiterate His Excellency, the President Cde Emmerson Dambudzo Mnangagwa's expectation when he addressed Vice Chancellors and Chairpersons University Councils on 9 January 2018 at the Harare International Conference Centre, I quote, "Institutions of higher learning should work as an integral part of the country's economy and should harness the knowledge and skills of graduands through Science, Technology, Research and Development for economic growth".
The government expectation calls upon each and every one of us to play our respective roles and ensure that the University delivers on its mandate. My appeal to Management is that they should take advantage of the willingness on industry's part, to partner institutions of higher learning for purposes of delivering on the Academic Transformation Agenda as outlined by the government.
The Vice Chancellor briefed me and highlighted a number of projects that the University has targeted as part of the "100-Day Deliverables" as well as those that are meant to have an impact on the economy as a whole.  I wish to commend him and his team for such efforts.
Our expectation as the Board is that the University:-
Embraces and implements the Programmatic Approach, it is no longer "business as usual," to service delivery.
Contributes meaningfully to the Higher Education Transformation Agenda.
Responds to the government's call for the University to play an impactive role in the various policy formulation platforms at national level.
Registers growth in student numbers and infrastructural development.
Registers tangible results in its technology, incubation, development, transfer and commercialisation effort.
Lastly I would like to commend our parent Ministry of Higher and Tertiary Education, Science and Technology Development for brokering the student Tuition Loan Scheme with a number of financial institutions. This should see a significant reduction in student indebtedness to the University.
Let 2018 be a year when our University makes waves and leaves footprints on the technological landscape of this country.

Thank you