News
ARIPO Hosts IP Training Workshop for Final Year Students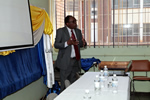 The African Regional Intellectual Property Organisation (ARIPO) is calling on African governments to embrace Intellectual Property to enhance national development.
Addressing a two-day training workshop on Intellectual Property for HIT final year students, ARIPO Deputy Director Mr Kige said intellectual property is crucial for national development and African governments should embrace them. "It must be organized and must involve all of us including the government, industry, commerce and institutes of higher learning. Therefore, governments must put polices to manage intellectual properties properly. No country has ever developed without IPs", he said.
Mr Kige added that HIT is one of the first institutions in Zimbabwe to have an institutional policy on IP.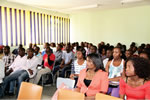 In his opening speech, the Dean in the School of Industrial Sciences and Technology Mr Perkins Muredzi urged the participants to delve into intellectual property issues in order to make significant changes in their lives, communities and globally.
The two-day workshop was aimed at imparting knowledge of IPs to the students as they finalise their Bachelor of Technology degree studies in various technology and engineering disciplines. It was also aimed at enhancing the students' appreciation of IPs, promoting research and transfer of the patented research to industry, providing basic assistance in the patenting of patentable research, enhancing the generation capacity of IPs (patents, utility models) and improving the exploitation of IP assets through licencing and joint venture assignments by HIT students.
Courses covered during the two-day training workshop included introduction to IPs, commercialisation of IP technology, transfer process, obtaining a patent (locally, regionally and internationally) and institutional IP policy formulation.