News
HIT Acting Vice Chancellor receives International Award

The Harare Institute of Technology continues to gain international acclamation as its Acting Vice Chancellor Engineer Quinton Kanhukamwe was recently awarded the International Socrates Award "THE NAME IN SCIENCE AWARD" in the Science sphere for personal contribution to intellectual development of today's society by the Europe Business Assembly.
Engineer Kanhukamwe received "THE NAME IN SCIENCE AWARD" at the Summit of leaders "Europe Business Assembly (EBA) Achievements 2013" held at the British Institute of Directors under the aegis of the Europe Business School on the 10 – 12th of April 2013 in London.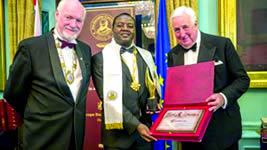 The primary aims of this important event were to showcase dynamically developing companies and public institutions that are enrolled in the EBA rating, and also to present awards to outstanding managers, companies and public institutions.
In his acclamation to Engineer Kanhukamwe, the Europe Business Assembly Director General, John W.A. Netting expressed deep respect towards the Harare Institute of Technology and its Acting Vice Chancellor a well as his entire team, adding that his name is known outside Zimbabwe due to his participation in scientific, educational and social programmes and charity work combined with a successful managerial career.
"We must admit the successful work of your university in professional, scientific and educational directions as well as high of its alumni. These key factors, together with stainless reputation, dynamic growth and sustainable scientific achievements let the Socrates nomination committee to nominate your personality for the international Socrates Prize in the science sphere for maintaining traditional values of virtue, bravery and integrity", said the EBA Director General.
More than 120 participants from all over the world attended the Summit of Leaders "EBA Achievements 2013" conference, representing the spheres of construction and architecture, business administration, medicine, healthcare and education.
The International Socrates Awards were established by the Europe Business Assembly (EBA Oxford, United Kingdom). The main objectives are to promote leaders and to strengthen international economic,
scientific and cultural relations as well as to promoting international integration.
Personalities, politicians as well as public figures, businessmen, scientists and artists are presented with EBA International Awards for their achievements and contributions to today's society.
The summit of Leaders was held in a warm and friendly atmosphere, and gave new impetus to the strengthening of international cooperation in the fields of business, science and culture.
The International Socrates Awards are recorded in the world register of outstanding scientists of the 21st Century with awarding a medal of fame for contribution to the world science. The Award gives the right to use Europe Business Assembly trademark for a period of five years to market the Institute`s business and programmes.
This international award comes soon after the Outstanding Leadership and Contribution to Education Award that Engineer Kanhukamwe got in Mauritius in recognition of his leadership of HIT in December 2012.
This award also recognises the Institute's uniqueness that has brought about a refreshing outlook in terms of its curriculum through the inculcation of technopreneurship and innovation. The award recognises individuals and institutions across Africa who have surpassed several levels of excellence and set an example of being a role model and exemplary leadership as well as the individuals behind these institutions who are building their institutions through leadership, innovation, academic and industry interface as well as a supreme objective of building future leaders.
Engineer Kanhukamwe was also recently conferred the Zimbabwe Institute of Management Public Services Manager of the Year Second Runner`s Up 2012 Award in recognition of the contribution and dedication to developing and promoting best practices in management and leadership.
The Harare Institute of Technology (HIT) Board Chairman Dr. G. Mandishona, the entire Institute Board, Management, Staff and students congratulate Acting Vice Chancellor Engineer Quinton Kanhukamwe on being conferred these prestigious awards. Congratulations, Makorokoto, Amhlope!!!