News
HIT signs research agreement with REA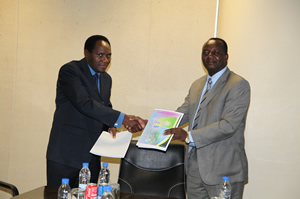 The Harare Institute of Technology has entered into a sponsored research agreement with the Rural Electrification Agency (REA) to collaborate and jointly fund research into the development, manufacturing and testing of high voltage transformers and related components.
Following the successful pilot testing of such transformers the two institutions also agreed to commercial production and marketing of the same. They also agreed to jointly conduct research and financing capital expenditure on tools and equipment that will be required in this project.This agreement shall remain in force for a period of five years with effect from 1 January 2012.
The two parties agreed to design,manufacture,test and deliver an oil immersed, air natural (ONAN) with completely self protected features,outdoor type, phase 33/0.4kV, 50KVA distribution transformers as part of the import substitution programme for the Rural Electrification Agency.
Investigations will be conducted to find out the feasibility of mass production of a range 11/0.4kV and 33/0.4kV transformers, for pilot test by Rea before commercial trading within and outside Zimbabwe, as will be mutually agreed by the two parties.
The details for the development of a transformer business subject to the prototype transformer meeting all technical and statutory tests requirements shall be jointly developed by both parties.
This project shall five phases and has a projected budget of US$500 000.00.
In his speech at the signing ceremony, Vice Chancellor Engineer Q.C Kanhukamwe said the Institute felt privileged to be given such a challenge and this fulfills the Harare Institute of Technology's mandate of the development, incubation, transfer and commercialization of technology as well as producing human capital for national industrialization.
"More importantly we were encouraged by REA`s realization that through HIT`s uniqueness of providing practical oriented technology degree programmes, its research thrust underpinned by technopreneurship and facilitated by the state of the art workshops and laboratories, solutions to national problems can indeed be found within our borders", said the Vice Chancellor.
Vice Chancellor Engineer Kanhukamwe also assured REA that HIT has the capacity to respond to their needs adding that that history has been made and HIT value this relationship as it entails a shift in policy in Zimbabwe where universities and industry collaborate in knowledge generation as well as provision of import substitutes for a variety of technologies that are imported into the country.
Mr Mzilikazi, the Acting Chief Executive Officer for the Rural Electrification Agency of Zimbabwe promised more collaborative agreements on individual and specific projects to be jointly developed by the two parties and also assured their commitment to see the successful completion of this project.
The Rural Electrification Agency is a statutory body with a specific mandate of providing energy and energy services to the rural communities of Zimbabwe in a cost – effective manner.
REA was formed ten years ago and so far it has managed to electrify more than 6 500 institutions countrywide including rural schools, health centres, local government offices, business centres, small scale farms, villages and irrigation schemes