News
HIT Holds Robotics Workshop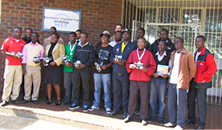 The HIT Electronic Engineering Department Robotics Club, recently held a four day workshop on using LEGO Mindstorms Education for Robotics for primary and secondary school teachers.
The workshop covered topics such as the introduction to automated machines, building Robots with LEGO Mindstorms education, programming for LEGO Mindstorms using the LEGO NXT Software and enforcing the concepts by practically competing in various challenges.
Mr Kenyon Stamps, a Lecturer at the Electronic Engineering Department and the organizer of the Robotics workshop said the focus is on expanding this project to schools nationwide,training their teachers and students in science and technology.
"Our objective is to get young people between 9 and 18 years to become interested in science engineering and technology. This programme we are working on tries to develop some skills and interest in science and technology in primary and secondary school students", said Mr Stamps.
He added that science and technology encourages responsibility, knowledge of engineering and building up the nation, becoming innovative in coming up with solutions to problems that affect us in our day to day lives.