News
HIT, HUNAN hold further talks on plastics and leather project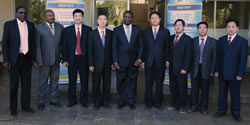 The Harare Institute of Technology is in discussions with the People's Republic of China Hunan Province's College of Science and Technology to discuss the establishment of Leather and Plastic Technology centres at HIT campus.
The primary areas of focus are the training components of the leather and plastics centres.
A high-powered Chinese delegation recently visited Zimbabwe to assess the local leather and plastic industry as well hold further discussions with HIT.
The proposed project has already received the endorsement of the Ministry of Higher and Tertiary Education and the Office of the President. Among the delegation were also some representatives of Hunan Leather Company, Pukyong National University and the National Vocational Education of China.
The Hunan delegation was led by its Vice President Professor Xiao Bing Fang who acknowledged the work done so far by HIT in preparing the necessary documents and seeking support from both the Chinese and the Zimbabwean governments.
The delegation stated that they were more convinced to move on with this project judging by the interest demonstratedby the past and current ambassadors of the People's Republic of China, Commercial Counselor of the government of China to Zimbabwe, the Ministry of Higher and Tertiary Education and the Office of the President of the Republic of Zimbabwe.
The two parties also proposed the necessity of teaching of Mandarin to the HIT community to break the language barrier in the unrolling of the project.
The Chinese delegation also conducted an industrial tour of the Willowvale Industrial area of Harare and the first visit was to Superior Holdings, a tannery and shoe manufacturing company as well as Phoenix Plastics and Brushware.
Currently, HIT is preparing documents to do with the current state of affairs on the Zimbabwe leather and polymer industries to be passed to Hunan and the Institute shall refine the whole project proposal document in tandem with the needs of the commercial sector of the Chinese government as well as putting the monetary component to the project proposal.
The Harare Institute of Technology signed a Memorandum of Understanding with Hunan College of Science and Technology (China) in 2009 The partnership envisages the building and establishment of a Plastics Technology and Leather Technology centres. The two centres shall have production and teaching facilities.